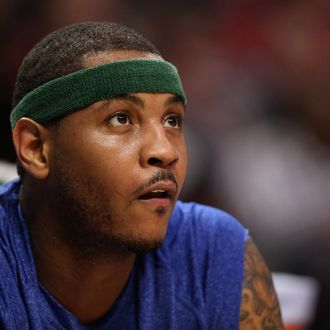 Carmelo Anthony.
Photo: Jonathan Daniel/Getty Images
The Knicks have nothing left to clinch in the regular season, which means that Carmelo Anthony gets to chill on the bench until the playoffs. Entering today, Anthony was averaging 28.7 points per game, just head of Kevin Durant, who's at 28.1 per game and whose Thunder have one game remaining. But Durant announced today — via a screenshot of an iPhone note posted to Instagram — that he'll be sitting out his team's final game, essentially clinching the title for Anthony.
Even if Durant played tonight, with Anthony sitting out, he'd have needed 70 points to leapfrog Carmelo, though such a thing wouldn't be unprecedented: David Robinson once scored 71 in the final game of the season, beating out Shaquille O'Neal for the 1993–94 scoring title. If you're wondering, Kobe Bryant is in third place, but is out for the year, and LeBron James is fourth, but isn't expected to play in the Heat's regular-season finale. So unless James Harden — who is currently in fifth place — drops 243 points on the Lakers tonight, Carmelo will become the second Knick to win the NBA scoring title and the first since Bernard King back in 1984–85. We like Melo's chances.