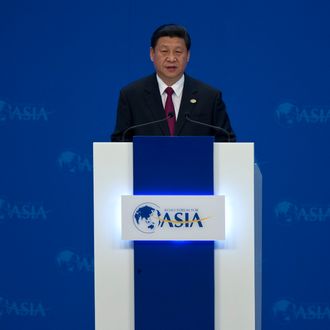 During his remarks at a Sunday business forum, Chinese president Xi Jinping took a cue from Fidel Castro and said that no country "should be allowed to throw a region and even the whole world into chaos for selfish gain." Though he did not name names, it was clear that he was referring to North Korea's recent missile-rattling, which China's foreign minister Wang Yi later called "a grave concern." The comments carried significant weight because China, which is North Korea's only major ally and financial backer, had previously avoided expressing frustration with the growing tension on the Korean peninsula.

Though former Ambassador to China Jon Huntsman called Xi's statements "a huge opening" to work with China on getting North Korea under control, several U.S. senators found them unsatisfying. On Face the Nation, John McCain criticized Beijing's "failure to rein in what could be a catastrophic situation" taking advantage of its influence over North Korea's economy. Chuck Schumer, who also appeared on CBS, agreed, saying that China needs to "step up to the plate and put a little pressure on this North Korean regime." Meanwhile, Lindsey Graham blamed China for the current situation: "They don't want a democratic Korea next to China, so they're propping up this crazy [North Korean] regime – and they can determine the fate of North Korea better than anybody on the planet."
The White House didn't comment on this latest development, but the Obama administration has said that China must choose between taking a harder line with North Korea and an increase in the United States' military presence in East Asia. While it's starting to seem like Beijing is going with the former option, predicting Pyongyang's response is difficult, as always.