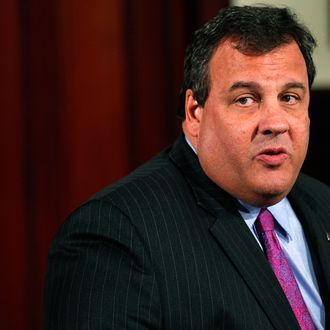 Photo: Jeff Zelevansky/2011 Getty Images
Sometimes politicians (and those who aspire to be politicians) get heated and yell swears. Sometimes they do this for effect, other times their emotions get the better of them. Both things happened recently with members of our local political class. One was New Jersey Gov. Chris Christie, who on Tuesday hollered "bullshit," to great applause while making the point to an audience in Long Beach Township that New Jersey and the feds intended to build storm surge-preventing sand dunes on its beaches. Another was New York mayoral candidate John Catsimatidis, losing his cool Sunday as attendees at a gathering of Brooklyn's Young Republican Club questioned his lack of specific proposals. So who yelled it better?
Christie wanted to drive home his point that the government didn't intend to build anything but dunes on the beach in front of some property owners, who had expressed concerns they would install everything from bathrooms to hot dog stands. "Let me use an indelicate word," Christie said, telling kids to cover their ears. "Bullshit. That's what that is … That's the excuse they use. Here's why they're really concerned: They don't want their view blocked."
Catsimatidis gave no such warning as he sparred with conservative activist Frank Russo (at 3:30), who insisted he didn't understand Catsimatidis's job training program. "Bullshit! Go bullshit yourself if you want! … The program is to teach these people the ability to earn a living, okay? … I know how to make a living! I know how to teach people to make a living. You know, if you don't like it, tough!"
Christie got a better response, but Catsimatidis screamed "bullshit" better because he got a new usage out of a tired swear. "Go bullshit yourself," coming soon to Urban Dictionary.