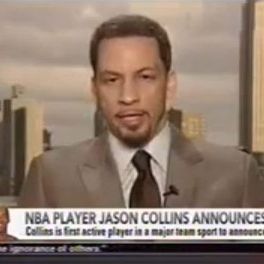 ESPN's Chris Broussard doesn't think you can be gay and a Christian.
The vast majority of the responses today to NBA player Jason Collins's decision to come out of the closet have been positive and supportive. From Collins's NBA peers to Ellen to the White House, pretty much everyone is happy for Collins and proud of his courage. Of course, there have been some notable exceptions. 
The most prominent and controversial dissenter may have been ESPN reporter Chris Broussard. In an interview with Outside the Lines, Broussard said that being gay (or taking part in any other kind of Biblical sexual no-no, like premarital sex or adultery) is tantamount to living in "unrepentant sin" and "walking in open rebellion to God."
Elsewhere, NFL wide receiver Mike Wallace got into trouble for tweeting that he just doesn't get why gay men don't want to have sex with attractive women. He then deleted the tweet and apologized:
Also on Twitter, NBA All-Star David West of the Indiana Pacers saw fit to complain about the "I'm black" part of the opening line of Collins's Sports Illustrated story: "I'm a 34-year-old NBA center. I'm black. And I'm gay." West says it was a "statement of the obvious," although it's not clear why that offends him so much. 
Current Spurs guard Tony Parker and retired Spurs forward Bruce Bowen are both very happy for Collins, which is nice. But they both tweeted the exact same message of support, word for word, which is less nice. Whether Parker and Bowen were both parroting a line given to them by Spurs PR or Parker just straight-up stole Bowen's tweet, we have no idea, but somebody messed up. 
Finally, WFAN's Mike Francesca, a person whose job consists of discussing sports on the radio, told listeners today that he couldn't care less that Collins came out of the closet and could hardly fathom why Collins was even talking about his sexuality. "It means less than nothing to me," Francesca said, as if the significance of having the first gay male athlete in American major-league sports was completely lost on him. He's not opposed to Collins's sexuality, like Broussard — just oddly indifferent. 
*Before you even say it: We are well aware that there are a million more vile, homophobic reactions on Twitter, in comment threads, and elsewhere on the internet. These are the worst reactions from prominent people in sports.