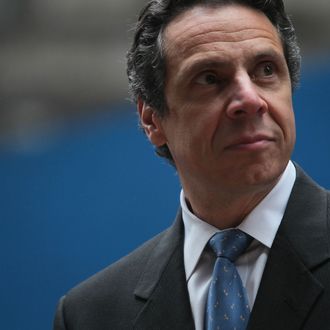 Photo: Chris Hondros/Getty Images2010 Getty Images
The New York Post's Fred Dicker is nothing if not an insider in Gov. Andrew Cuomo's circle, routinely scooping bits of news sourced to the governor's office that often advance his agenda. Dicker is such a favorite with Cuomo that the governor agreed to work with him on a journalistic biography to be published later this year by HarperCollins imprint Harper, which News Corporation owns along with The Post. So the fact that Harper has now confirmed it will publish Cosmo's autobiography while reportedly backing away from Dicker's book is, as The New York Times' Thomas Kaplan and Julie Bosman put it, awkward. On several levels.
The publisher, which wouldn't confrm the news to the Times, confirmed to the Associated Press about an hour after the Times' report ran that it had acquired the rights to Cuomo's book. But that report didn't mention anything about backing off Dicker's deal. Cuomo's autobiography will be a "full and frank look at his public and private life," the publisher said. A HarperCollins spokeswoman told the Times, "Harper does have a book under contract with Fred Dicker."
But the Times, citing "people familiar with the situation," pointed out that a rift had formed between Dicker and Cuomo of late, and that much is obvious. Dicker reported last week that the governor had told a group of business leaders he wouldn't green-light fracking for natural gas because the legislature would try to ban it with a moratorium. A Cuomo spokesman told Capital New York that was "totally false." But Dicker quoted people on the record, and then followed up by attacking Cuomo's credibility on his radio show.
Dicker, who does not like Cuomo's position on gun control, has also taken shots at Cuomo recently for veering away from a pro-business agenda. Capital New York's Azi Paybarah pointed out earlier this month that Cuomo had noticeably slowed his public conversation with Dicker.
Times political reporter Nick Confessore, himself a veteran of Albany's wheels within wheels, cracked on Twitter after the Times report and before the AP had confirmed the Cuomo bio, "Cuomo's DC superlawyer re-floats previously-floated imaginary memoir to screw suddenly-uncooperative semi-biographer?" As it turns out, it's funny because it's true.