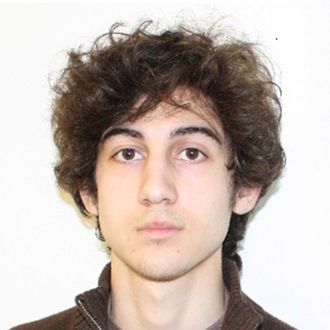 Dzhokhar Tsarnaev, the surviving 19-year-old suspect in last week's Boston Marathon bombings, was officially charged today and made his first court appearance from a hospital bed, where he remains in serious condition with "apparent gunshot wounds to the head, neck, legs, and hand," according to the federal complaint. The charges include use of a weapon of mass destruction and malicious destruction of property resulting in death for the twin blasts that killed three people and injured more than 200. (Wired's Spencer Ackerman explained last month that the term "mass destruction" applies not just to nuclear weapons: "Other weapons of mass destruction, legally speaking: Bombs. Grenades. Mines. Missiles 'having an explosive or incendiary charge of more than one-quarter ounce.'") If convicted, Tsarnaev faces up to life in prison, or death.
Despite early calls from lawmakers that Tsarnaev be tried as an enemy combatant, "We will prosecute this terrorist through our civilian system of justice," said White House press secretary Jay Carney. Additional details in the full criminal complaint include a description of Dzhokhar's behavior, captured on security cameras, leading up to the attack:
He appears to have the thumb of his right hand hooked under the strap of his knapsack and a cell phone in his left hand. Approximately 15 seconds later, he can be seen stopping directly in front of the Forum Restaurant and standing near the metal barrier among numerous spectators, with his back to the camera, facing the runners. He then can be seen apparently slipping his knapsack onto the ground. A photograph taken from the opposite side of the street shows the knapsack on the ground at Bomber Two's feet.

The Forum Restaurant video shows that Bomber Two remained in the same spot for approximately four minutes, occasionally looking at his cell phone and once appearing to take a picture with it. At some point he appears to look at his phone, which is held at approximately waist level, and may be manipulating the phone. Approximately 30 seconds before the first explosion, he lifts his phone to his ear as ifhe is speaking on his cell phone, and keeps it there for approximately 18 seconds. A few seconds after he finishes the call, the large crowd of people around him can be seen reacting to the first explosion. Virtually every head turns to the east (towards the finish line) and stares in that direction in apparent bewilderment and alarm. Bomber Two, virtually alone among the individuals in front of the restaurant, appears calm.
Each explosion killed "at least one person," the charges state.
According to the victim of the Thursday night carjacking in Cambridge, one of the Tsarnaev brothers "reached in, opened the door, and entered the victim's vehicle. The man pointed a firearm at the victim and stated, 'Did you hear about the Boston explosion?' and 'I did that.' The man removed the magazine from his gun and showed the victim that it had a bullet in it, and then re-inserted the magazine. The man then stated, 'I am serious.'"
In a search of Dzhokhar's dorm room at U Mass Dartmouth, the FBI found "among other things, a large pyrotechnic, a black jacket and a white hat of the same general appearance as those worn by Bomber Two at the Boston Marathon on April 15,2013, and BBs."