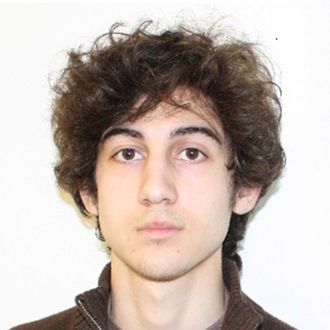 Not the most consistent source so far.
Photo: Handout/FBI
Dzhokhar Tsarnaev initially told investigators that, following the bombing of the Boston Marathon, he and his brother planned to head down to New York City to party. "The information that we received is something about a party — having a party," NYPD commissioner Ray Kelly said yesterday. "Something to the effect of coming to party in New York." Party, got it. 
But as NBC News first reported, Tsarnaev revised his story about a day later, telling authorities that, actually, "he and his brother discussed detonating the rest of their explosives in Times Square."
At a press conference this afternoon, Ray Kelly characterized the plan to attack Times Square as a spontaneous decision the brothers made after hijacking an SUV on Thursday, as opposed to something that had been premeditated for a while. Mayor Bloomberg, for his part, noted how valuable the city's network of surveillance cameras, the so-called Ring of Steel, could have been had this scenario actually come to pass. 
It'll probably never be possible to tell which version of Dzhokhar's story — if either — is accurate. Maybe they were just going to play it by ear. Some partying, some terrorism … see where the night goes.