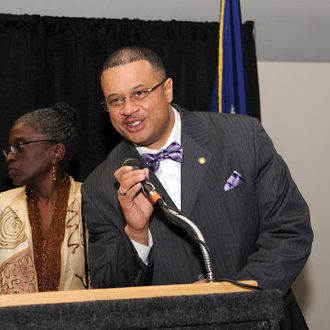 Fresh off of the arrests of State Senator Malcolm Smith, Councilman Dan Halloran, and four others in a bribery scheme that hoped to rig the mayoral ballot, the U.S. Attorneys office announced that Bronx Assemblyman Eric Stevenson was allegedly taking illegal payments of his own. "Stevenson is accused of taking bribes in exchange for official acts, which included drafting, proposing, and agreeing to enact legislation that would benefit the co-defendants' businesses," according to an announcement. And that's not all: Yet another anonymous-for-now assemblyman tied to the mess has been working with investigators and will resign as part of the deal.
"ASSEMBLYMAN-1 has been cooperating in this investigation since prior to January 2012," says the full complaint. "In exchange for that cooperation, ASSEMBLYMAN 1 has agreed, among other things, to continue to cooperate with the USAO and the Bronx County District Attorney's Office and to resign his office with the New York State Assembly following the arrests of the defendants in this complaint."
The mystery crooked insider should be revealed soon, joining the very crowded Albany Hall of Shame. As the Times notes, "Over the past seven years, 29 state officeholders have been convicted of a crime, censured or otherwise accused of wrongdoing." Ladies and gentlemen of New York, your government.
Update: Assemblyman Nelson Castro will resign effective Monday, after admitting he's been an informant since the summer of 2009.