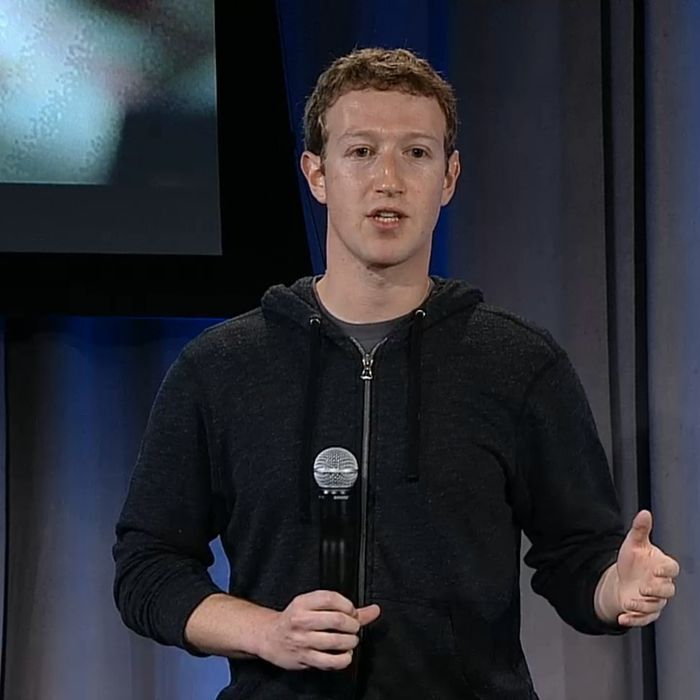 I've been reading To Save Everything, Click Here, Evgeny Morozov's new political critique of the tech industry. Like Morozov, I'm also interested in the rhetorical work that certain frequently used Silicon Valley buzzwords do — words like disrupt and innovate. And I couldn't help thinking of Morozov today, while watching Facebook roll out its sparkling new product — a software product called "Facebook Home," which will run on Android and be built into a specially designed HTC phone.
The idea behind Facebook Home is simple: Facebook wants to subsume the entire mobile phone experience. Home replaces your home screen with a continuous-scroll Facebook panel called Coverfeed, that shows you your friends' updates without having to open a dedicated app. It lets you write wall posts with a single tap, like and comment on your friends' photos in a full-screen stream, and use a messaging app called "Chat Heads" that ties your SMS messages and Facebook messages together. You'll still be able to access non-Facebook apps from a Home-enabled phone, but they'll be a swipe away. The app will make your phone a Facebook "home" less in the sense of a comforting shelter than in the sense of a house-arrest ankle monitor.
Facebook has been laying the groundwork for this digital land-grab for years. First, it introduced a dedicated messaging app. Then, it rolled out Graph Search, its attempt to make searching your Facebook network as easy as using a traditional seach engine. Then, most recently, it redesigned the News Feed, to make the Facebook-browsing experience more like reading a newspaper, with bigger photos and more prominent links.
Think about it: What do you want from your phone's home screen? Probably news, messaging, search, e-mail, and social media. With Facebook Home, the hope is that you'll never have to leave the Facebook womb while using your phone. If you want to post a photo to Instagram, it'll be integrated right into your default camera app. If you want to send a text, you'll still be able to do it via regular means, but using Facebook messenger will be a tap or two faster. Status updates will now appear like top-level banner notifications.
"We want to bring this experience of having a home … right to your phone," Mark Zuckerberg said today, while launching the app.
Do people want this? It's hard to say. Retrevo just did a survey that shows that 82 percent of people wouldn't even consider buying a Facebook phone. But the network effect is strong, and if all your friends suddenly start switching over to Facebook phones, that could change. And as Quartz points out, a low-cost, Facebook-integrated phone could be more popular in countries like India, where more people use Facebook than own smartphones.
In a way, Facebook is trying the same strategy Google did with its low-cost Chromebooks. Google's motivation for making laptops was never to make money from the computers themselves; it was to enmesh a user in Google's web of apps. If you used one, you browsed the web on Chrome, did your office work on Google Docs, and got your media from Google's Play store. And pretty soon, you had no reason to leave the Google ecosystem. The whole strategy was less about selling people a laptop and more about selling them the idea of using Google products for everything.
Not many people are buying Chromebooks, but that doesn't much matter. In the same way that Google is trying to become a one-stop shop for laptop computing, Facebook wants to become an operating system for the mobile world. And as with Chromebooks, even though Facebook introduced a physical phone today — the HTC First, which comes with Facebook Home pre-installed — the hardware isn't really the point. Facebook is making a bet that you'll move your entire mobile life onto its suite of apps. It's betting, moreover, that this new quasi-operating-system will entice not just hardcore Facebook users — the kinds of people who already use Facebook messages as a primary mode of communication — but more casual users as well.
"We want to build the best experience for every person on every phone," Zuckerberg said.
If Home works, Facebook will essentially usurp the Internet on any phone that installs it, and they'll get a massive, engaged audience for revenue-generating ads. If it doesn't, they'll have to try another route to capturing the mobile masses.
Either way, pay attention to the political implications of naming a piece of software after a primary residence — a shelter where people experience comfort and loss, a sanctuary where they're safe and protected, and intruders are kept at bay. When Facebook says it wants to become your home, it's making a profound statement about the way people's smartphones are now their primary means of both getting into and out of the world around them. If the social network gets its way, you'll start seeing Facebook every time you use your phone, and not much else.