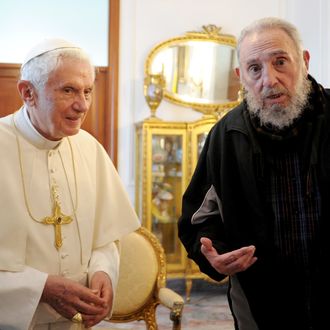 Photo: L'Osservatore Romano Vatican-Pool/Getty Images
Cuba's seemingly immortal former leader Fidel Castro, who knows a thing or two about threats of nuclear destruction, is asking both Kim Jong-un and Barack Obama to think before they do anything stupid. "The Democratic People's Republic of Korea was always friendly with Cuba, as Cuba always has been and will continue to be with her," Castro wrote in his first state media op-ed in almost nine months, but "this is one of the gravest risks of nuclear war since the October Crisis in 1962 involving Cuba, 50 years ago."
"Now that it has demonstrated its technical and scientific advances, we remind it of its duties to other countries who have been great friends and that it would not be just to forget that such a war would affect in a special way more than 70 percent of the world's population," wrote Castro, who's apparently gone soft in his old age.
While the situation in the Koreas is "incredible and absurd," he added, he warned Obama that if bombing breaks out, he "would be buried by a flood of images that would present him as the most sinister figure in U.S. history. The duty to avoid [war)]also belongs to him and the people of the United States."
Yes, he should have added as a postscript, I am still alive.