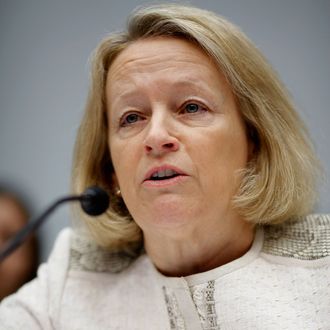 Henceforth known as Mary $hapiro.
Photo: Chip Somodevilla/2012 Getty Images
It shouldn't surprise you that Mary Schapiro, who ran the SEC and was Wall Street's top regulator from 2009 to 2012, is headed to a cushy job at the Promontory Financial Group, a massive financial lobbying and compliance firm. Promontory is, after all, a glorified retirement home for former regulators, according to this blockbuster American Banker article, with a long history of pulling dedicated public officials out of the private sphere and replacing their government salaries with some real coin.
What's surprising, and kind of great, is how Schapiro eschews the usual "excited for a new challenge" platitudes that are typical of revolving-door lobbyist types and just owns her sellout.
She tells the WSJ:
In my case, there's no revolving door … I won't ever be going back to government.
You hear that, Washington? Mary Schapiro is done with you. All those long nights trying to keep Wall Street on its toes? All those headaches over whether to go after Pump-and-Dump X or Ponzi Scheme Y, for a meager $165,000 a year?
No more. From now on, Mary Schapiro doesn't even pick up the phone for less than a mil. And don't even call her a revolving-door case. Because the door has been kicked down, and the prisoner has been freed.