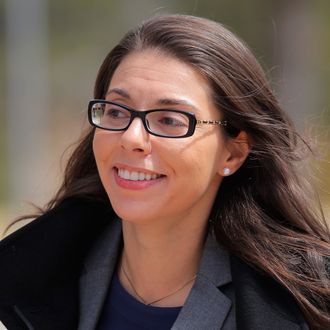 Photo: Doug Pensinger/2013 Getty Images
It's not often that the journalistic establishment rallies around Fox News, and there are many good reasons for that, but it's also what makes the case of Jana Winter so fascinating. The FoxNews.com reporter  — yes, a real reporter, not a talking head — is facing pressure to reveal the source that told her about Aurora killer James Holmes's scary journals, an ongoing media saga that's just now getting any attention at all. For Fox, always with a chip on its shoulder, the support so far is not enough. And they're right, in a way.
The leak to Winter is thought to violate a gag order in the case, and on Wednesday, a judge will decide whether she must testify "and potentially go to jail for refusing to reveal her source," according to Fox, which has dedicated a live-coverage page to the Free Press Fight of Winter's cause. Other outlets have been noticeably quiet, including the New York Times, which hasn't touched the story.
"If @janawinter, who may go to jail to protect sources, worked for @nytimes instead of @FoxNews the case would be huge," tweeted CNN's Jim Spellman last night. "If she worked for mainstream newspapers or CNN, I think the case would have been covered," Judith Miller, who served 85 days in jail for not revealing a source when she worked for the Times, told BuzzFeed. "There's a certain reluctance because it's Fox News." (Miller is now a Fox News contributor.)
"When I got into trouble, people were very supportive of me because I was with The New York Times," she added. "I'm surprised and disappointed there hasn't been more coverage."
At Gawker, John Cook writes, "The prospect that she may go to jail for doing her job is an outrage," but adds that Winter isn't a media cause célèbre "because Fox News has literally created a multi-billion dollar behemoth on the notion that reporters — excuse me, 'the MSM' — are treasonous scoundrels and liars who don't deserve the protections of the First Amendment." That's certainly the case when it comes to WikiLeaks, Julian Assange, and Bradley Manning.
The hypocrisy of Fox News makes other outlets, especially competing cable networks, which have thus far avoided Winter's situation entirely, wary of covering a just battle. The lack of coverage is also, in part, because the issue is an esoteric one that won't really pick up heat until the judge's ruling on Wednesday. (The Daily Caller's claims of a "liberal media bias" are, in fact, the site's first mention of Winter.) At the same time, Fox News is known to rally and cheerlead loud enough on its own, and doesn't always make it easy, or enticing, to join in. 
Update, 9:44 p.m.: There won't be a decision on Wednesday after all, as District Court Judge Carlos Samour Jr. delayed the ruling until later. "In his order, released late Monday, he wrote that he will not rule on requiring Winter's testimony until he first decides on whether a notebook mailed by James Holmes to a psychiatrist will be admissible as evidence in Holmes' murder trial," Fox News reports.