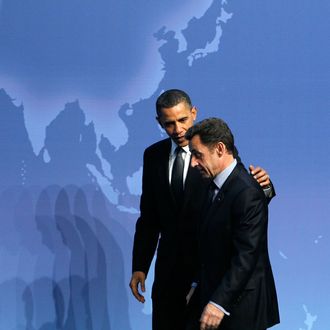 Photo: Alex Wong/Getty Images
It is a diplomatic tradition for world leaders to give other world leaders presents when they visit, usually stuff that in some way represents their homeland. But because of U.S. law, the president doesn't get to just take all of his nice new things home and think about how great it is to be in charge; instead, Barack Obama hands over all of his free swag to the National Archives and Records Administration for potential inclusion in his presidential library, and the Federal Register makes a list, cataloging who it's from, what it's worth, and why Obama took it. (Almost always: "Non-acceptance would cause embarrassment to donor and U.S. Government.")
It turns out this stuff is bonkers. According to a recently released gift list for 2011, and based on Daily Intelligencer's upscale taste, French president Nicolas Sarkozy and his wife, Carla Bruni, give the best goods, and wow, are they generous.
1/10/2011, Est. Value - $7,750.00 (for Barack)
— Large, black Hermes golf accessory bag including set of lock and key, and extra strap in bottom compartment, presented in cream-colored drawstring bag
1/10/2011, Est. Value - $401.00 (for the Obama family)
— Set of seven Bonpoint Paris perfume, skincare lotion, and soap products presented in a rectangular zip-up white box that says Bonpoint on the inside flap

1/10/2011, Est. Value - $5,500.00 (for Michelle)
— Two 6.5" x 14" Baccarat "Our Fire" clear full-headed crystal table lamps on silver pedestals with silver and crystal lampshades in red presentation box, inscribed with "Baccarat" on the top
5/25/2011, Est. Value - $15,083.62 (for Barack)
— Lacoste white classic men's polo  shirt. Limited-edition 
— "HOPE" fountain pen and Ligne 8 lighter from S.T. Dupont, each in a cherry  blossom design, and contained in a 6.5" x 6.5"  black box with "G8 France  2011" on the top
— Bottle of  Christian Drouin Pays d'Auge
— S.T. Dupont black and silver  fountain pen, presented in a  8.5" x 4.5" black case
— Six black glass goblets in a plastic display case and contained in a 30" x 18" red box
— 14.35"-tall blue-gray glass sculpture of Bucephalus, Alexander the Great's horse
5/25/2011, Est. Value - $435.00 (for Michelle)
— Jurassic flower candle by Frederic Malle
— Cologne Bigarade by Frederic Malle, 250ml.
5/25/2011, Est. Value - $1,994.24 (for Barack)
— Hermes orange cotton canvas travel case

— Hermes cotton terrycloth beach towel, printed with umbrellas and towels beach scene

— handmade Forge de Laguiole letter opener with wooden handle in 9" brown leather case. Both are enclosed in a 14" x 2.5" x 1.5" black presentation box with Forge de Laguiole printed in white. It is a special G8 edition with "G8 France 2011, 34 Monde, Nouvelles Idees" and shape of the Eiffel Tower engraved.
— Box of chocolates
8/1/2011, Est. Value - $1,650.00 (for Barack)
— Crystal golf statuette by Baccarat, depicting a golfer with his iron pitched over his head in the moment before striking a ball
— Crystal golf statuette by Baccarat, depicting a golfer with his iron out in front in a follow-through posture
— Hermes golf travel bag with canvas cover and carrying strap
11/2/2011 Est. Value - $6,191.00 (for Barack)
— Reusable grocery/tote bag, orange with a large white dandelion on the side

— Book and CD, title: "G20," by Laurence Jenkell
— Book, title: "+/-5 Metres: Sos Editions Oceans," by Joe Bunni
— Book, title: "Around the World," by Laurence Jenkell
— 11" x 7.5" x 3" black leather folding toiletry bag, made by Lancel
— 200 Euro souvenir "G20" coin, in a blue protected sleeve, and housed inside a small blue packet with "Monnaie de Paris" written in gold on the outside
— Silver watch with black wristband made by B.R.M. 8" x 5" x 1"
— brown leather woman's wallet with embroidery on the sides made by Lancel
— His and hers white, belted Dior bathrobes with "Dior" embroidered on the breast pocket, black leather
— "Gra-Valise Petit Voyage" suitcase made by Lancel
— brown and orange leather purse with embroidery on the side made by Lancel
— black leather clutch purse made by Christian Dior
— 17" tall Plexiglas sculpture, entitled "Wrapping Flag Candy USA," depicting an upright "Tootsie Roll" with an American flag patterned wrapper, on a 6" x 6.75" x 0.75" clear Plexiglass base, accompanied by a certificate of authenticity
— Box of Duroc-Danner chocolates
— Perfumes from the town of Grasse
— Chateau d'Estoublon olive oil
— Men's Dior hygiene products
12/13/2011, Est. Value - $2,310.00 (for Barack)

— 15" x 12" black leather "Neo Igor" Louis Vuitton men's business bag with luggage tag attached and embossed with "B.O."
That's some $40,000 in useless luxury, from one country, in one year. The rest is here. For reference, one time President Obama gave Gordon Brown some DVDs.