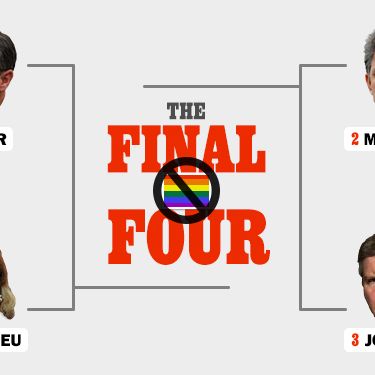 Dan: Well, Jon, it's been a crazy month, but today, after Joe Donnelly and Heidi Heitkamp dropped out of the tournament, we're down to the Final Four: Mark Pryor, Joe Manchin, Tim Johnson, and Mary Landrieu. The moderate powerhouses are the only remaining Democratic senators who haven't come out in support of gay marriage — but only one can be the last Democratic senator not to support gay marriage. Let's take a look at the field. Landrieu is an interesting case, don't you think? You could argue she should have been knocked out last week.
Jon: I'm going to get a lot of heat from Landrieu's fan base, but I'll just say it: She does not belong in this tournament. She said last Thursday, "The people of Louisiana have made clear that marriage in our state is restricted to one man and one woman. While my personal views have evolved, I will support the outcome of Louisiana's recent vote." She has already dropped the e-word. We're seeding her a distant No. 4.
Dan: I mean, "personal views" — that's the whole ball of wax, isn't it? I'm not even sure she's still eligible, so let's just move on. Tim Johnson of South Dakota is the Cinderella story here — he's retiring so he really has no business going this deep. How did he pull it off?
Jon: Tim Johnson does all the little things well. He's gritty, gutsy — no, wait. What's the opposite of gutsy? That's what he is. And that's how he has managed to last. Maybe he's not following the news very closely? In any case, I think he drops very quickly.
Dan: That would mean big things for Joe "Man Chin" Manchin. As a Democrat in deep-red, Obama-hating West Virginia, this is a senator who puts a ton of focus on defense.
Jon: Joe Manchin filmed an ad in which he shot a cap and trade bill. Shot it dead. With a rifle. His remorseless sharpshooting of symbolic targets will keep him in this thing until the very end.
Dan: The only question is whether he can outlast Mark Pryor of Arkansas, a popular pick to win it all. Having to stand for reelection in 2014 makes Pryor nearly unstoppable. Is there any way he could blow this thing?
Jon: With a strong recruiting base in conservative Arkansas, Pryor is loaded with reasons to oppose gay marriage and has no reason at all to evolve through 2014. The only upset scenario is that he and Manchin are still playing after the midterms. Pryor is only going to hold out as long as he needs to keep winning elections. If he loses in 2014, he'll either back marriage equality in the lame duck or lose eligibility when he leaves the Senate, handing Manchin the trophy. Otherwise, Pryor remains the favorite to be the last anti-gay-marriage Democrat in the Senate.
Dan: And what a magical moment that would be.