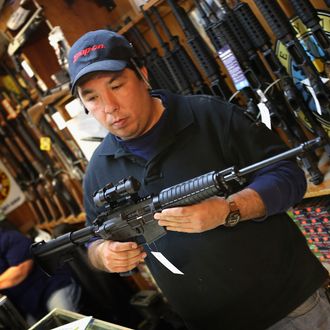 Photo: Scott Olson/Getty Images
GE Capital, the finance arm of General Electric, is doing what the Senate couldn't do and getting tough on the gun business. The Wall Street Journal reports that the Connecticut-based firm has started sending notices to gun-shop owners, informing them that customers will no longer be able to take out loans from GE to pay for their firearms. 
A GE spokesman said that the company's decision not to finance gun purchases was the result of "industry changes, new legislation and tragic events."

GE's new policy will make a very small dent in a big business, but as major pension funds and private-equity firms also rethink their involvement with the firearm business, it's increasingly clear that the gun lobby's biggest fear should be pressure it faces from financiers, not lawmakers.