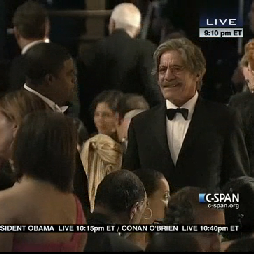 Tracy Morgan and Geraldo Rivera discuss childhood traumas.
The four or five people who actually watched C-SPAN's thorough coverage last night of famous people eating before the speeches at the White House Correspondents' Dinner may have noticed that the camera paused on a most deliciously bizarre sight: that of Geraldo Rivera and Tracy Morgan engaged in deep conversation. 
What could the owner of the most famous mustache in journalism and the guy who "lives every week like it's Shark Week" possibly have to say to each other? Fortunately, Rivera solved the mystery for us at the Bloomberg/Vanity Fair after-party, explaining that he and Morgan compared notes on their childhoods and discussed their experiences growing up in Brooklyn. Rivera said they also talked about how Morgan's father died of AIDS when the comedian was a teenager, something Rivera had not been aware of prior to Saturday.
The newsman acknowledged that the conversation was a bit heavy compared to the usual Correspondents' Dinner chit-chat, but he described it as "really good." Tracy Morgan seems to agree: On Twitter, he referred to Rivera as "My Man fifty grand."