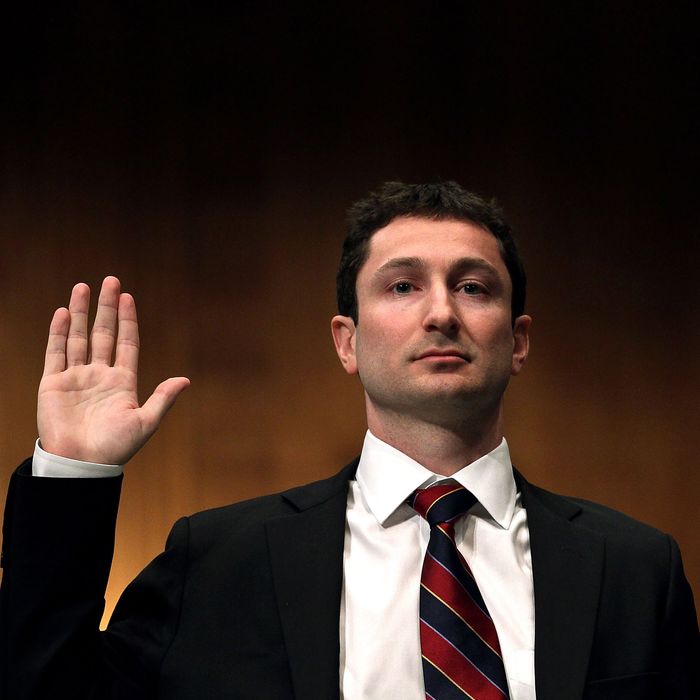 Fab, in worse days.
Photo: Mark Wilson/Getty Images
If you followed the financial crisis of 2008 and subsequent fallout, the name "Fabrice Tourre" might ring a faint bell, somewhere deep in your cerebral cortex.
Tourre, better known as "Fabulous Fab," was the baby-faced, French-accented Goldman Sachs mortgage trader who devised an obscure mortgage-backed security known as Abacus 2007-AC1, the cravenness of which he bragged about in some very ill-advised e-mails to his girlfriend. When the Abacus deal subsequently got Goldman sued and dragged in front of Congress to explain itself, Tourre was offered up as a sacrificial lamb to atone for Goldman's mortgage sins.
FabFab is still waiting for his trial in July, but that doesn't mean he's just sitting around watching Netflix.
The Wall Street Journal stalked Tourre all the way to the University of Chicago, where he's currently a grad student studying for his Ph.D. in economics. The paper found him playing intramural soccer, discussing esoteric economics texts, and living a normal life, or as normal a life as is possible for a FiCri villain:
Mr. Tourre resides in a high-rise building overlooking Lake Michigan and Chicago's stately Field Museum. In the lobby, a uniformed guard screens guests as they come in the door.

At the university, a photo of Mr. Tourre smiling confidently hangs in a hallway outside economics department offices, among pictures of the 40 other graduate students in his class. On a Wednesday in February, Mr. Tourre dutifully fulfilled his teaching-assistant role, staying after a professor's lecture to work one-on-one with a student, hunched over notebooks and gesticulating energetically.

"If you didn't know he was being sued for this stuff, you wouldn't even notice," said one classmate of Mr. Tourre's, who declined to be named. "He's just one of the guys here."
Fortunately for Fab, even though he's studying at a school known for producing free-market-worshiping libertarian types, he's receiving one crucial kind of institutional assistance: Goldman is paying his legal bills.