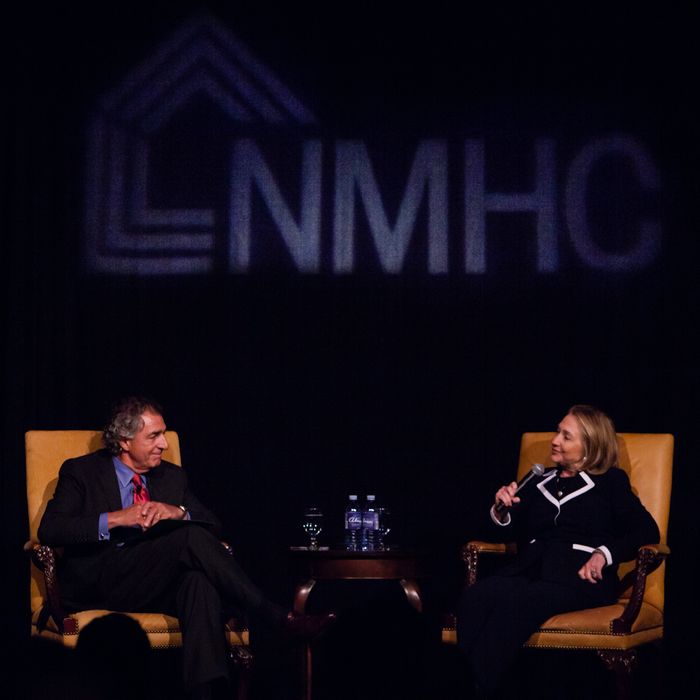 Hillary Clinton has always had a passion for muti-housing issues and also six-figure speaking fees.
Photo: Samuel L. Brown/NMHC
Since leaving office, Hillary Clinton had gone almost three whole months without answering the Question — which, for the uninitiated, is something along the lines of "What about 2016?" But the streak finally ended at an event in Irving, Texas, yesterday, where Clinton gave remarks before the National Multi-Housing Council's board of directors.
Media access was not granted for the appearance, Clinton's first post-State paid speaking gig. But according to the NMHC website, Clinton gave the group one her standard 2016 dodges:
[W]hen asked the question all were curious to know–will she run for president in 2016–she answered in a most diplomatic way.

"That is certainly a question I haven't been asked — in all of 12 minutes," she said. "[But] I'm just returning to civilian life and getting reacquainted with something called normal life."
The AP got a slightly different take from Tom Bozzuto, the guy who interviewed Clinton onstage: 
When he asked about 2016, Bozzuto said Clinton told the audience that she was "too freshly released from her role as secretary of state to have time to even think about this." Bozzuto said Clinton said she had been asked about the subject by someone in the hallway minutes before the speech. "She said she was looking forward to having time to relax," he said.
The gist of all three quotes is about the same: Hillary Clinton, the woman who bought a home in New York in 1999 so she could run for Senate in 2000 and then for president in 2008, just isn't thinking about what she'll be doing eighteen months from now.