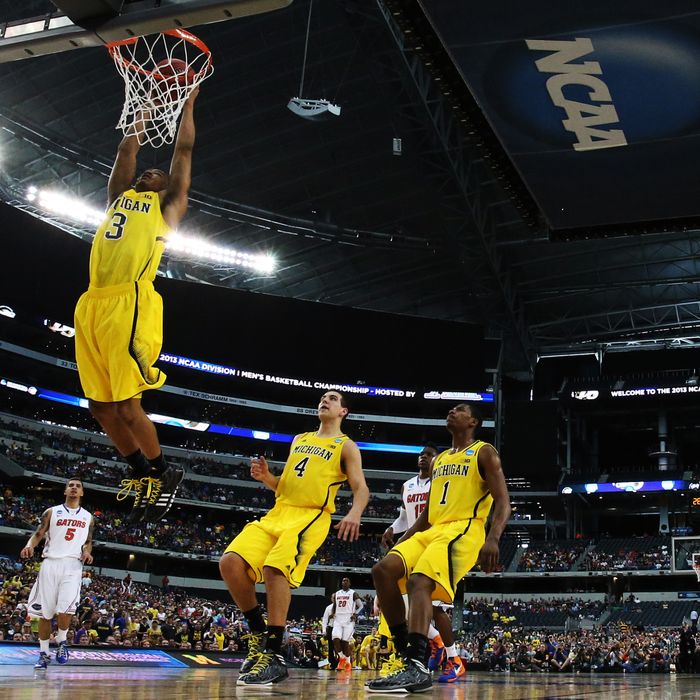 Photo: Ronald Martinez/Getty Images
You may have noticed that the University of Michigan men's basketball team is playing in the Final Four this year. Perhaps, if you are like many of my casual-basketball-fan friends, you are shocked that Michigan has suddenly gotten good at basketball and are wondering how this happened. One barometric measure of Michigan's hotness is that Harold Ford Jr., who possesses an Afghan warlord's instincts for attaching himself to the most popular cause at any particular moment, appeared on Morning Joe yesterday to tout his deep affection for the basketball program associated with his law school alma mater.
As a Michigan fan, I've had lots of people ask how this has happened. Here's the story.
Michigan was really good at basketball for many years. Things started to go bad in the nineties, when its basketball coaches allowed a man named Ed Martin, who had mysteriously insinuated himself into the Detroit youth basketball scene, to hang around the program.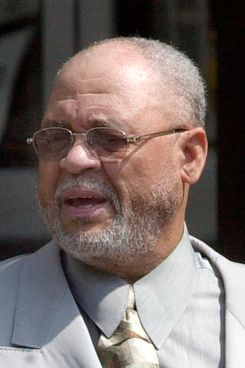 Martin turned out to have run a numbers racket in the auto plants, and was attempting to launder his illegal income by loaning it to local basketball players who would pay him back when they played professionally. It was a bad idea for all involved, but especially for Michigan, which was deservedly hit with serious sanctions and fell into a spiral of being unable to recruit good players, and thus unable to win at a high level, for more than a decade. (The coach who tried to pull Michigan out of its spiral and restore its image, Tommy Amaker, was fired after six so-so seasons and is now turning Harvard into a nerd-basketball powerhouse.)
In 2007, Michigan hired John Beilein. Haven't heard of him? How about "Pittsnogle?" That rings a bell, right?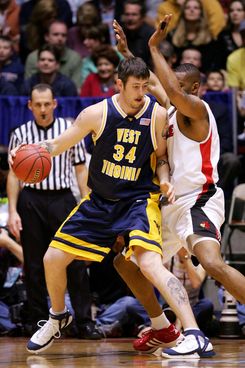 Kevin Pittsnogle briefly became the personification of West Virginia basketball for his freakish ability to hit three-pointers, and also the way both his name and appearance seemed to confirm every preexisting stereotype about the state. Beilein was his coach at West Virginia. Beilein is an innovative tactician who has enjoyed unusual success at every stop in a long coaching career that began at Erie Community College. Beilein never served as an assistant and invented his own offensive system, which only he uses. It looks kind of like the Princeton offense but he doesn't like it when you say that.
At Michigan, Beilein began by recruiting undersize players like Zack Novak, Stu Douglass, and Jordan Morgan away from the likes of Harvard and Valparaiso. But as he's generated more success, he's been able to attract more talented players. (Still, the star of this year's team, Trey Burke of Columbus, Ohio, did not get offered a scholarship by Ohio State and defected from conference doormat Penn State when its coach was fired.)
If you're paying closer attention to the current squad, you may note that Michigan won its first sixteen games, was briefly ranked no. 1 nationally, but lost six of its last twelve games, fell to the fifth seed in the Big Ten conference tournament, was generally dead in the water, and became a trendy pick for an opening weekend upset.
How did they suddenly start killing people again? Basically, two things happened.
First, Michigan stopped playing Big Ten games. The Big Ten conference has become a world of its own, where bruising programs like Wisconsin and Michigan State have established a physical style that referees in other leagues don't permit, and which lets defenders muscle out the precision cuts and footwork of Beilein's system. Michigan's offense is badly suited for Big Ten basketball, but well suited for regular basketball. "Playing in the Big Ten, it's like Big Ten football," notes Oakland University coach Greg Kampe. "It's not like that in the NCAA Tournament. They call fouls.")
Second, Mitch McGary happened.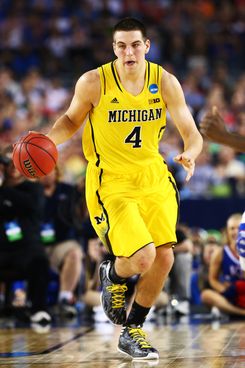 The six-foot-ten, 255-pound freshman spent most of the season coming off the bench and alternating brilliant plays with cringe-inducing, giant-puppy-furniture-crashing mistakes. McGary figured out how to control his spastic tendencies, perhaps induced by his ADHD, and transformed himself into a superstar. Michigan has suddenly gone from a team with great guards and weak post play into a team that can dominate inside and out. Nothing opponents throw at McGary seems to be able to stop him now – not even punching him in the balls: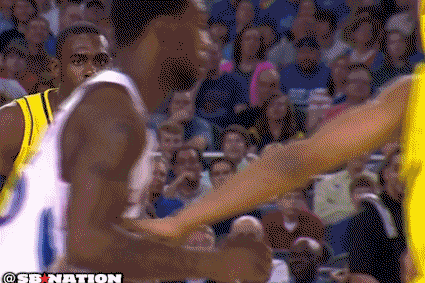 In his Morning Joe appearance, Ford gushed over "our big man, McGrath, freshman." McGrath, McGary, whatever. When Harold Ford is referring to you in the first-person plural, you've arrived.