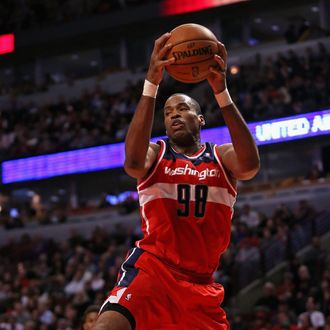 Jason Collins is gay.
Photo: Jonathan Daniel/2013 Getty Images
The NBA's Jason Collins became the first active major-league American athlete to come out of the closet when he declared this morning in a Sports Illustrated cover story, "I'm a 34-year-old NBA center. I'm black. And I'm gay." Collins, a 12-year veteran who played last season for the Washington Wizards, goes on to describe his personal history, explain why he decided to make this announcement, and address how he'll be received by his fellow players. "I've been asked how other players will respond to my announcement," Collins writes. "The simple answer is, I have no idea. I'm a pragmatist. I hope for the best, but plan for the worst." 
Collins is right to be guarded about how his peers will react. When retired NBA center John Amaechi announced he was gay in 2007, the response from some NBA players was mixed if not outright homophobic. And even though public attitudes toward gay people has become infinitely more enlightened since 2007, there will probably be a handful of players who — even if they're smart enough not to say so publicly — won't be thrilled about having a gay teammate in the locker room. But on Twitter today, NBA players past and present are responding to Collins's news with love and support. 
Here's the first less-than-100%-positive tweet from an NBA player we've seen so far, from the Indiana Pacers' David West:
West elaborates:
Update, 2:02 p.m.: Some of the tweets might not be as heartfelt as they appear. As commenter CY99MADDUX points out, retired Spurs guard Bruce Bowen and current Spurs guard Tony Parker tweeted out the exact same message of encouragement. 
This post is being constantly updated.