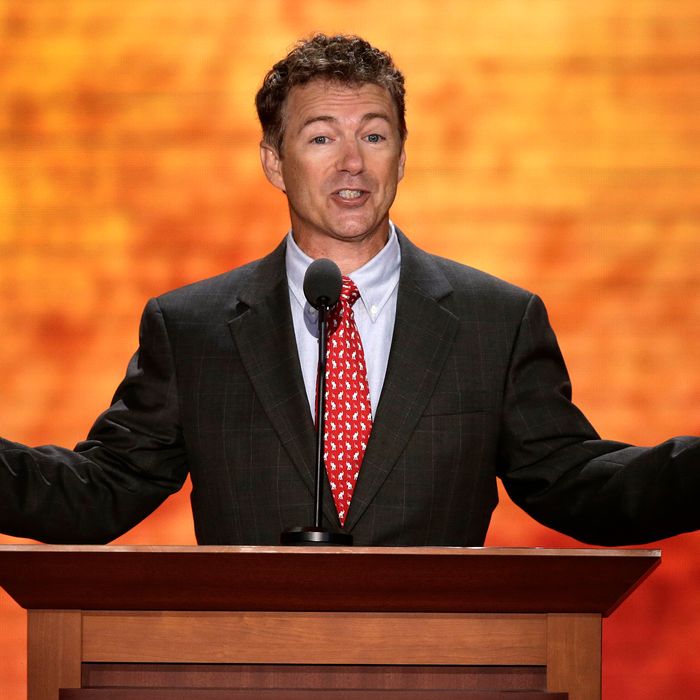 I don't get why you black people vote Democrat! Also stop taking our phones. Kthxbai.
Photo: J. Scott Applewhite
The contretemps over Jay-Z's rap about his Cuba trip might be a useful entry point to address Rand Paul's curiosity as to why — whyyyy? — African-Americans do not vote for Republicans. The Drudge Report and the Republican National Committee have taken a deep interest in the matter, out of what is either a strange belief in the literal truth of rap lyrics or a persistent habit of linking President Obama to hip-hop culture in a way that might alienate mainstream white Americans.
Paul's speech omitted his party's long and continuing use of black culture as a political wedge. It likewise omitted any mention of the GOP's conscious decision to make itself into the party of the white South. Instead Paul's analysis centered almost entirely on economics, on which Paul offered his characteristically mindless combination of goldbuggery, market absolutism, and total inability to grasp the possibility of any government intervention in the market that falls short of socialism. (Democrats, he asserted, favor "equalizing outcomes through unlimited federal assistance." Equalizing? Unlimited?)
The kernel of truth Paul identified is that African-Americans, disproportionately lacking resources and opportunity, disproportionately favor a government role in helping the non-rich. In Paul's telling, the natural and expected thing would be for everybody to embrace Paul's laissez-faire absolutism, and only the unique experience of African-Americans prevents them from doing so. In fact, white people, too, have a racialized view of government.
Consider the case of the "Obama phone," which was the subject of an excellent report by Karen Tumulty the same day as Paul's speech at Howard. This is, actually, a three-decades-old program in which phone companies provide free service to the indigent on the theory that access to phones is vital for emergency services, obtaining jobs, and so on. It exploded into the right-wing consciousness last year when this video made the conservative rounds:
It has received nearly 8 million hits. Republicans, convinced the "Obama phone" is a real thing, are denouncing it as Obama socialism gone wild and even holding hearings in Congress. All that it took for a long-standing, uncontroversial, bipartisan program to become a widely cited symbol of government excess was a viral video of a scary black woman touting it.
In his tea-party response to Obama's State of the Union Address earlier this year, Rand Paul announced, "We want you to have something infinitely more valuable than a free phone. We want you to have a job and pathway to success." Why would anybody doubt that?