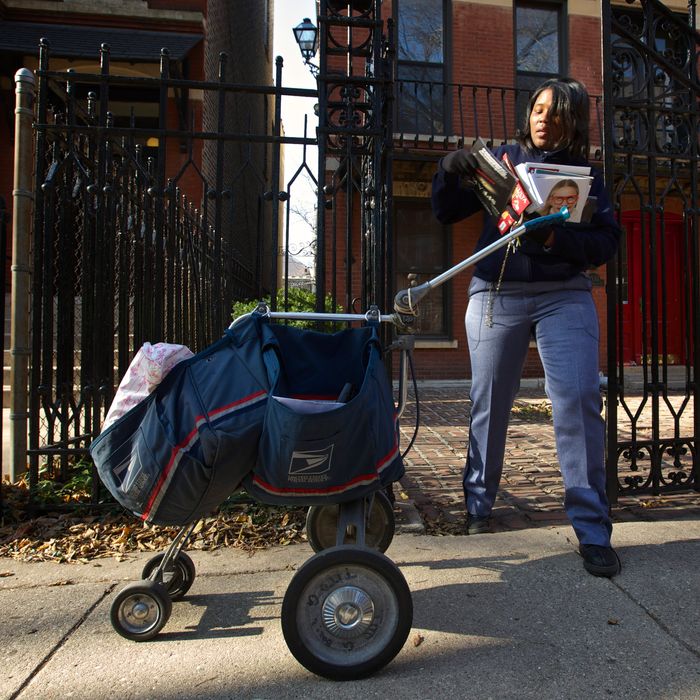 C'mon Postal Service!
Photo: John Gress/Corbis
Today's non-farm payrolls report showed that just 88,000 jobs were created in March. That's well below the 190,000 jobs economists had expected, and even though headline unemployment ticked down to 7.6 percent and revisions to previous months' figures were decent, I'm fairly confident that the big miss on jobs will dominate headlines for the days to come.
Many people are blaming the sequester for the big downtick, but that's not really the case. One of the biggest reversals in the report was in retail trade, which shed 24,000 jobs in March despite being a sector of the economy not really touched by sequestration. And if you remove the U.S. Postal Service (which somehow lost 12,000 jobs in March), the government actually added 5,000 jobs.
So, what happened?
Most likely is that the payroll tax hike is to blame. That would explain some of the weakness in retail, and in other industries like "transportation and warehousing" (which lost 2,800 jobs). And it would augur badly for future jobs reports, since much of the payroll tax's effect on consumer spending patterns may not be felt until May or June, when the hit to people's paychecks really sinks in.

I wouldn't be surprised if today's number is revised upward next month. But until then, the question now becomes: Will the Federal Reserve change its course? As Binyamin Appelbaum of the Times notes today, the Fed is looking for "stirrings of recovery" to justify cutting back on all the things it's doing to help the economy and reduce unemployment. The Fed has signaled it intends to raise interest rates and cut back on QE3 when the unemployment rate hits 6.5 percent, and it may do so sooner if it feels those stirrings coming on extra-strong.
I don't think the Fed is feeling any stirrings, recovery-oriented or not, about this report, despite the slight improvement in the headline unemployment rate. Both Ben Bernanke and Fed vice-chair Janet Yellen have said that they consider much more than the headline rate when making decisions about how the economy is doing, and that they're not going to recommend cutting off stimulus at the first sign of improvement. Just this week, Yellen said so in a speech:
With unemployment so far from its longer-run normal level, I believe progress on reducing unemployment should take center stage for the FOMC, even if maintaining that progress might result in inflation slightly and temporarily exceeding 2 percent.
In fact, from a monetary policy standpoint, it's theoretically possible to argue that today's jobs report was a positive development, in that it will give hawks at the Fed pause about declaring that the worst is over and it's time to scale back on stimulus.
Of course, that's the wrong framework. And it's little comfort to the 4.6 million people who are long-term unemployed, and the 803,000 so-called "discouraged workers" who have stopped looking for jobs because none are available. From their perspective, there are no two ways about it: Today's jobs report sucked.