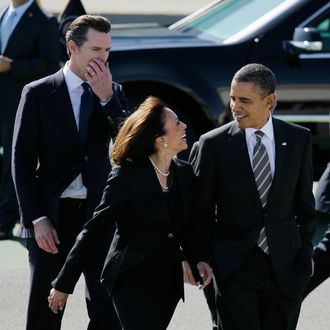 Obama and Harris.
Photo: Eric Risberg/AP/Corbiss
As the nation continues debating just how sexist President Obama was yesterday for calling California attorney general Kamala Harris "brilliant," "dedicated," and "by far, the best looking attorney general," it's worth adding this context: Usually, when Obama says a high-ranking government official is "good-looking," he's referring to a man.
Introducing HUD secretary Shaun Donovan last February, Obama declared, "There he is, the good-looking guy in the front here."
At a speech last March, Obama pointed out his secretary of the Interior, Ken Salazar, by calling him "a good-looking guy."
A couple of months ago, Obama gave a shout-out to the "outstanding Secretary of the Navy," Ray Mabus. "There he is right there — the good-looking guy over at the end."

Obama even extended his favorite compliment to the Stanley Cup champion Pittsburgh Penguins. "I have to say all of you look pretty good without your playoff beards," Obama said during a White House ceremony. "They're pretty good-looking guys without all that."
In short, Obama is an equal-opportunity flatterer, not a shallow, sexist pig. Calling people "good-looking" — men, women, Penguins — is just something he does. It's almost a tic at this point. He doesn't mean anything by it.

However, these remarks do not occur in a vacuum. That the accomplishments of women are routinely undermined by men who have trouble focusing on anything beyond physical attractiveness is universally understood. As Irin Carmon writes in Salon today, "For every shirtless shot of Obama, there are probably 500,000 think pieces about the relative elasticity of Hillary Clinton's skin."
Which is to say that, even if his intentions are pure, Obama should know better than to distribute his "good-looking" compliments evenly to men and women. Calling Ray Mabus "good-looking" doesn't undermine how seriously people take his ability to oversee the Navy. But it did Harris no favors when Obama highlighted her looks, nor did it help Kirsten Gillibrand in April of 2011 when Obama introduced her at a DNC fund-raiser thusly:
"We've got some wonderful guests here today. First of all, two of the finest senators that you could ever hope to have, the senior Senator from the great state of New York, Chuck Schumer is in the house! And the far more attractive junior Senator, Kirsten Gillibrand is here."
The rules are not the same for how we talk about men and women, and they shouldn't be. Next time, Obama should stick with "brilliant" and "dedicated."