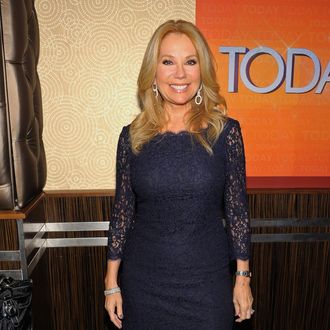 Photo: Michael Loccisano/Getty Images
As a result of the Ann Curry debacle, Matt Lauer has a likability problem no amount of polio jokes seems able to fix. That's where Kathie Lee Gifford comes in. In the past three weeks, the host of the fourth and booziest hour of Today took it upon her self to pen an open letter defending Lauer, then collected hundreds of signatures from the morning show's staffers. The plan was to run it as a full-page ad in USA Today, but when she presented the letter to Lauer on Monday he urged her to keep it "in the family." Wanting to respect his wishes, Gifford agreed not to buy the ad — so instead she described it in great detail to the Daily News.
Gifford explained that the recent media coverage of Lauer has been upsetting for all of his coworkers and "really frustrating for me because I have a deep sense of injustice about things. The letter read:
"We the people of the Today show who work side by side, day by day, year in and year out with Matt Lauer are tired of unfounded and unrelenting stories by faceless characters regarding his character and reputation … No one has coerced us to sign this. With our signatures we stand in support of our colleague and friend."
It was signed by Savannah Guthrie, Al Roker, Willie Geist and Hoda Kotb, but not Ann Curry. Gifford tells the Daily News that she just didn't get a chance to ask for Curry's signature. "She's just not part of (the show) day-in and day-out anymore. This wasn't about Ann, this is about our love and support for a different member of our family." Even without an ad, Gifford managed to put all of those nasty Today rumors to rest. And Lauer doesn't need to thank her — that's what what family is all about.