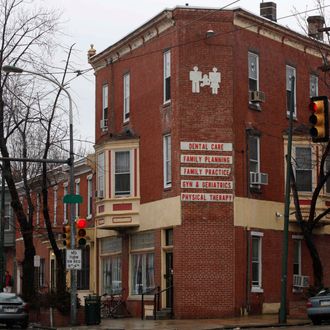 Gosnell's "House of Horrors."
Photo: Matt Rourke/? Corbis. All Rights Reserved.
Conservatives, sparked by a USA Today op-ed, are in an uproar that the trial of Kermit Gosnell — a doctor who is believed to have killed hundreds of live newborns and one adult patient while performing illegal late-term abortions in a filthy West Philadelphia clinic (read the PDF of the grand jury report for the sickening details) — is not getting enough attention in the media. Many, like the New York Post, are calling it an ideologically motivated cover-up:
The trial is receiving intensive coverage in Philadelphia and across the conservative press and Web sites. But national networks and newspapers? Not so much.

The reason seems obvious: Much of our press corps skews to one side on abortion. So even though what Gosnell is charged with is closer to infanticide — an unlicensed abortionist profiting mightily by killing the newborn babies of poor, minority women — somehow it's not news.

Isn't that a scandal, too?
Surely the Post itself has been covering the trial pretty thoroughly then? Nope! As Media Matters points out, the editorial is the first and only time the name Kermit Gosnell has been mentioned in its pages.
The truth is that, while you could certainly argue that the Gosnell story deserves more attention than it's received, the volume of coverage from national media outlets hasn't followed a partisan pattern. While the Post was ignoring Gosnell entirely, the New York Times ran four articles about it — three around the time Gosnell was arrested, in 2011, and one when the trial began last month. The Wall Street Journal has mentioned Gosnell five times, but not once since January of 2011.
On TV, according to a Nexis transcript search, CNN has mentioned Gosnell on eight separate occasions prior to this week's media uproar, compared to nine for Fox News — hardly a difference. Gosnell's name has never popped up on Fox News Sunday, but made it into two reports on CBS Evening News.
Liberals, in fact, have good reason to spread the word about the trial, as it highlights how restrictions on abortion coverage push desperate low-income women into the arms of corrupt doctors like Gosnell. As Irin Carmon at Salon writes:
Read this account from Jeff Deeney, a social worker from Philadelphia, who points out that the lack of public funding for abortion is a big factor leading desperate women to Gosnell: "It's worth noting for outsiders that Health Center #4 which serves the same neighborhood is the best in town, providing quality care for the uninsured poor. But Health Centers don't do abortions, and Medicaid, where a TANF mom's insurance coverage would come from, if she had any at all, doesn't pay for them. And for these women the cost of paying for an abortion out of pocket breaks the budget, leaving mom scrambling to make next month's rent or possibly wind up on the street." Cost is also how women often get past the legal gestational limit, as they struggle to save up enough money — and Gosnell's willingness to break the law was what made him their last chance. To everyone who thinks his case was a reason for more abortion restrictions: What he did was already illegal.