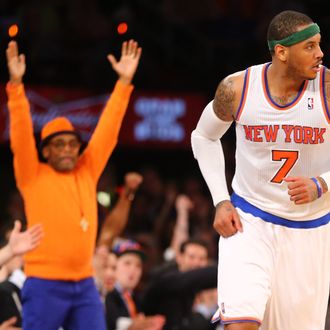 Spike is pumped.
Photo: Al Bello/2013 Getty Images
Five years ago this spring, the Knicks were playing out the string in a season in which they'd win a total of 23 games under head coach Isiah Thomas. Three years ago this spring, they were finishing up a 29-win season and preparing their July pitch to LeBron James. One season ago, they were 18-24 in mid-March when their head coach resigned after losing a power struggle with the team's biggest star. And now, this morning, they're the 2012–13 Atlantic Division champions. They get to hang a banner and everything.*
The Knicks cruised to a 120–99 win over Washington in the clincher last night — their thirteenth straight victory and 51st of the season overall. They were ridiculous from three-point range, hitting nine of twelve attempts in the first quarter and 20 of 36 for the game. The win also dropped their magic number to clinch the No. 2 seed in the East to three.
How long had it been since the Knicks won a division? Long enough that people started doing that thing where they pointed out what the No. 1 song in the country was, to drive home how much time has passed since the last time it happened. (The year was 1994, and the song, if you're curious, was R. Kelly's "Bump n' Grind.") Some fan bases don't have much reason to get worked up over division titles: They're a common occurrence in places like San Antonio and Los Angeles, and everyone can agree that a division banner is hardly the most important one a team can raise. But considering the hell that Knicks fans have been through, they're allowed to enjoy this.
The night was marred only by an injury to Kenyon Martin, who sprained his ankle during garbage time. He'll likely miss at least the Knicks' next game, tomorrow against the Bulls, but considering the way Martin was pounding the court in pain when he went down, we suppose the news could have been worse. (That said, considering the state of the team's big men, the last thing they needed was an injury to Martin.)
Let's not dwell on that, though. Have we mentioned that the Knicks are Atlantic Division champions? Because they are!
* Looks like they won't actually be hanging up a banner for their division title. Via Alan Hahn, the Knicks only hang team banners for winning or advancing to the NBA Finals.