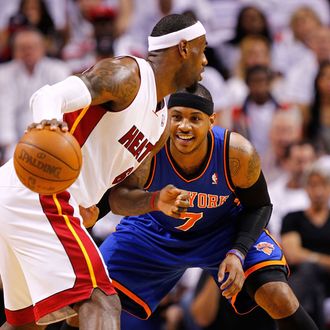 You might see this tonight, and also soon.
Photo: Mike Ehrmann/Getty Images
Before we talk about the Knicks and their "big" game against the Miami Heat tonight, who's up for some more Jim Dolan fun? The Post reported this morning that Dolan flipped out and fired a security guard Sunday for not recognizing him and not letting him into the Delta 360 club. He even pulled a "Do you know who I am?" on her when she demanded to see his I.D. badge, which he never wears, because of course Jim Dolan walks around expecting everyone to know who he is immediately. "I'm your boss! I pay your salary!" he yelled at her. We imagine he yells this at everyone. (Eventually the woman, who was sent home, got her job back. So see? He's a nice fella after all!)
So, yes: Jim Dolan is still the owner of this team, no matter how much we all try to pretend otherwise and/or forget it. Fortunately, the team is playing so well right now, that's a little easier to do.
It has become a bit of an article of faith that the team that has the best chance to slow down the Miami Heat juggernaut in the Eastern Conference is New York. Now, chance is a bit of a weasel word here; the Heat are far and away the best team in the conference. Their 27-game winning streak ended last week, but they've won two in a row since then, they have the best record in the NBA by a large margin, and everyone in the conference is jockeying to avoid them in the playoffs as long as possible. But if anyone has a puncher's chance, maybe it's the Knicks.
The reason? Three-point shooting. The Heat's weakness, such as it is, is their struggles with guarding the perimeter, and the Knicks are a team that loves to chuck 'em up from long distance. When those shots are falling — like they have been during the team's current eight-game winning streak — the Knicks are formidable. When they're not, they're back playing that ugly 'Melo Iso ball that was so ugly during last year's playoffs against Miami. But with the Heat's soft spot, the Knicks can at least dream.
They'll get a chance to do a dress rehearsal tonight, taking that eight-game winning streak into Miami. It's not known yet if LeBron James and Dwyane Wade, both of whom missed Sunday's game against San Antonio, will be in the lineup. It would seem unnecessary for the Heat to rush them back with just nine games left in the regular season, but it is on national television against a conference rival.
The Knicks do have plenty to play for, though. With ten games left on the schedule, they're thrillingly close to their first Atlantic Division championship since the 1993–94 season. Their magic number is six; any combination of Knicks win and Nets losses adding up to six will clinch them the division title and guaranteed home-court advantage in the first round of the playoffs. They're also battling Indiana for the No. 2 overall seed in the Eastern Conference; they're a half-game back right now. Whoever gets that No. 2 spot will have home-court in the second round, along with the handy side effect of avoiding the Heat for as long as possible.
We know baseball is starting — and obviously everyone in town is excited about that — and college basketball is in the Final Four, and the NBA season seems like it has been going on forever. But the Knicks are close to doing something they haven't done in nearly two decades, have won eight in a row, and have the reigning Player of the Week. (And it's not Carmelo.) The playoffs are almost here. This is starting to get fun.