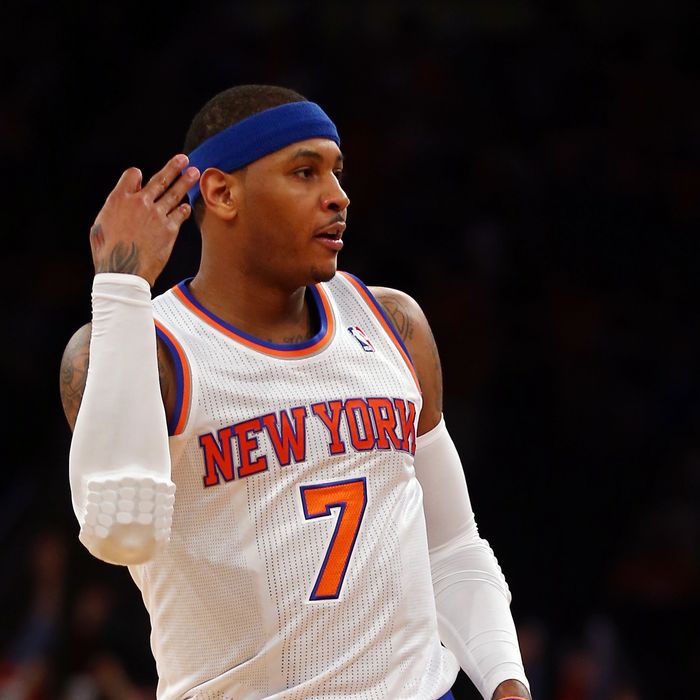 He loves this motion.
Photo: Elsa/2013 Getty Images
The New York Knicks played extremely poorly in game one of their first-round playoff series against the Boston Celtics. On offense, they basically had Carmelo Anthony and no one else, the worst caricature of a hoped-dead incarnation of Knicks. Key bench players like Steve Novak and Chris Copeland looked lost and awed by the moment. Tyson Chandler, still recovering from an injury, was stiff, passive, and completely out of it, and the interior defense, at least until late, was thusly limp and gross. The Knicks were unpleasant to watch and almost the total opposite of the team that won sixteen of their last eighteen games, against a rival who has vexed them for a decade, a rival known for turning into a monster in the playoffs. It all went wrong. And, hey … the Knicks still beat the Celtics 85-78 to take a 1-0 series lead and notch their second playoff win in nearly twelve years. If this is what happens when everything falls apart, the Knicks are in an excellent position.
Boy, did it look like a disaster for a while there, though. Earlier this week on The Knicks Blog's Mecca of Podcasts podcast, host Tommy Dee interviewed some hoser from CSN New England named Mike Felger. We know we're supposed to be all "we are all Bostonians" right now, but Felger, a personality we weren't familiar with before the podcast, was basically everything you'd expect from some radio dude in Boston. When asked about this series, it became immediately clear his knowledge of the NBA and the Knicks was limited mostly to Honey Nut Cheerios jokes. It was also clear he needed new material, railing on Carmelo Anthony for being a ball-hog, for only caring about his own stat line and for being a "loser." What was so strange about that was how outdated such criticisms sounded; anyone who has watched Carmelo this season, particularly in the last month, could tell how different he was this year. He was scoring, sure, but he was also exerting considerable effort on defense and, mostly, consistently finding the open man on the offensive end. He wasn't necessarily unselfish as he was using his selfishness to the Knicks' advantage. Felger obviously hadn't seen any of that.
Assuming he watched today's game, though, he still hasn't seen it. That Knicks team, with Carmelo dishing and shooters raining threes from every corner, with ball movement and flowing offense and everything else that's sugar and spice and everything nice, was not to be seen in game one until late. The Celtics defense, as it tends to do, kept blowing up the Knicks' pick-and-roll options, so all that was really left was that ugly Melo/J.R. Smith isolation ball that had them, as Knicks fan @knickerbacker put it, "basically running the offense that people who don't watch them think they've been running all year." In the first half, Carmelo hit his first four shots and then went 2-of-11 the rest of half. Uglier than that: According to ESPN's Stats and Info blog, Carmelo touched the ball on 26 possessions in the first half and passed the ball three times. You wanted to scream to the rest of America watching the Knicks kick off the playoffs: They're not usually like this, we swear!
And then it turned in the fourth quarter. The Knicks looked like the Knicks again, outscoring the Celtics 18-8, with Carmelo (who finished with 36 points, like it was nothin') hitting some outrageous killer clutch shots and even finding Kenyon Martin (who played terrifically and, considering Chandler's struggles, was a savior) underneath in the final minute for the basket that would secure the victory. The Celtics, even when they were winning over the first three quarters, looked old and sloppy, and if it hadn't been for Jeff Green, who scored twenty points in the first half, they might not have even been able to capitalize on the Knicks' problems. In that fourth quarter, though, the Knicks forced eight Celtics turnovers, seeming all the world like the team that had all the playoff experience and all the poise.
(Speaking of poise, the MSG crowd booed the bejesus out of Mark Sanchez when the Jumbotron showed him in the first half. Sanchez should probably avoid Jumbotrons, as a rule. Seriously, he got it worse than Kevin Garnett.)
So, the Knicks played lousy, and Carmelo was stressed and forcing it most of the game, and Tyson Chandler was hurt, and there was no Pablo Prigioni and no Amar'e Stoudemire and Iman Shumpert barely showed up either (though he was handy against Paul Pierce on defense). And they won, and by the end, they'd won fairly easily. If the Knicks can get back to playing like they did for the last month of the season, the Celtics are in serious trouble.
But no need to think about that yet, particularly with a breathless crowd waiting for the Celtics back in Boston. The Knicks are ahead in a series for the first time since April 29, 2001, right before they lost two straight games to the Toronto Raptors and then disappeared for a decade of Isiah haze. It has been a long, long time since the Knicks have been in this position. Enjoy it. Game two is Tuesday night at the Garden. The Knicks are bound to play better than they did today. This could get fun.