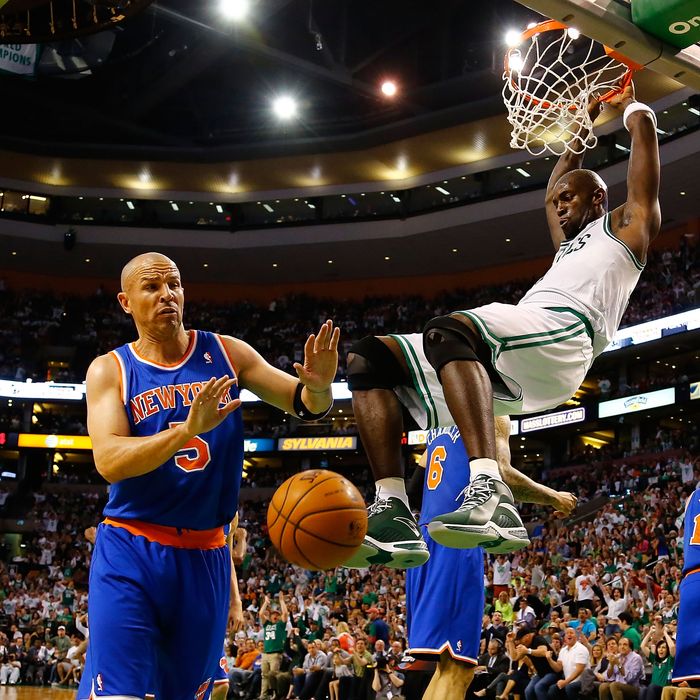 Alas, no sweep.
Photo: Jared Wickerham/2013 Getty Images
After the years of pain the Celtics have caused the Knicks, after the championship and all that the Kevin Garnett/Paul Pierce era has brought to Boston, it was probably unreasonable to think the Knicks were going to be able to knock the Celtics out in four games. The Knicks are the better team, and they're almost certainly going to win this series, but the Celtics were never going to go down easily. And they didn't.
The Celtics beat the Knicks 97-90 in overtime to keep their season alive, thanks in large part to an overtime explosion from Jason Terry, of all freaking people. Terry scored 9 points in overtime, Nate Robinson-style, and Carmelo Anthony missed shot after bad shot late in what was unquestionably the worst game he has played in more than a month. The Celtics had just enough in the tank to stave off elimination, and the Knicks, who could have totally used a week off, will have to head back out Wednesday.
It was a wild game, with both teams making sustained runs. The first half was as ugly as any the Knicks had played this series. After a listless game three, the Celtics came out hard and snorting in game four, and the Knicks weren't ready. Carmelo Anthony started 0-for-6, the offense never got in any sort of rhythm and the play was sloppy and lethargic. Ordinarily when the Knicks have that problem, JR Smith comes in to provide a spark, but of course he was suspended from this game for his elbow in game three, and suffice it to say, Quentin Richardson wasn't able to fill his role. The offense regressed back to Carmelo Iso ball, and Anthony wasn't on his game, going 3-for-15 in the half. (It was actually the most shots he'd ever missed in a playoff half.) Meanwhile, the Celtics looked better than they have all series, with Paul Pierce and Jeff Green leading the way. At one point, with eight minutes left in the third quarter, the Knicks were down by 20.
And then Raymond Felton took off. Felton has been a quiet key to this whole series, but there was nothing quiet about his third quarter. He scored 16 points in that quarter, including a heave three-pointer at the buzzer. The Knicks outscored the Celtics 30-14 in the quarter to cut that once huge lead to three. An Iman Shumpert steal and layup with six minutes left tied the game at 74 — he first tie since it was 0-0 — and suddenly the Celtics looked like they had for the first three games: tired, old and defeated.
But they still had some kick left to them and fought off the Knicks' runs. The Knicks, in fact, never had the lead until a Felton jumper with 1:18 left. But the Celtics hung in. And they received a ton of help from Anthony.
It really was a rough game for Anthony, despite his 36 total points, even before a lousy possession at the end of regulation and two missed free throws in the final two minutes. He was 10-for-35 from the field, 0-for-7 from 3-point range, with seven turnovers. In the last few minutes, both of regulation and overtime, he was awful, taking contest shots and missing them badly. Those who have been watching Carmelo all season know how much he has stepped up and altered his game, but those just tuning in today likely think otherwise.
Many other Knicks stepped up, particularly Felton and Shumpert, who had a double-double with 12 points and 23 rebounds, and some huge plays late. (Jason Kidd must have had the best scoreless game imaginable.) But they had no answer for, of all people, Terry, who scored those five huge points in a row in overtime, including a crazy transition three that gave Boston a lead it would never relinquish.
So! The Knicks have to do this again on Wednesday night, at the Garden. JR Smith will be back, and Carmelo can't have nearly as terrible as game as he had today. It's still a 3-1 series lead. A sweep would have been fun and handy, but the Knicks still have a stranglehold on this series. The Celtics weren't ready to be finished yet. The Knicks now will have the opportunity to take care of that last bit of business, in front of a crazed home crowd that will be delighted to see Pierce and Garnett off. Hey, these are the Celtics. No matter how old they are, it was never going to be easy.