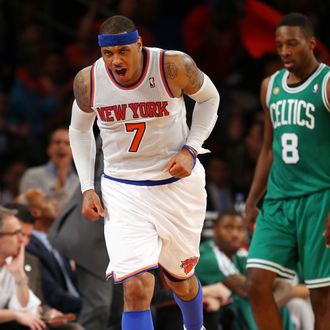 You're killing "must-win," Carmelo.
Photo: Elsa/2013 Getty Images
After beating the Celtics in Game 1 of the opening round of the NBA playoffs on Saturday despite a mediocre performance, the Knicks will look to go up 2-0 tonight at the Garden. Sports reporters, looking to hype up the game as much as humanly possible — as is their wont — are now asking players on both teams whether tonight's game qualifies as a "must-win."
Now, technically, only an elimination game is really a "must-win" — you literally must win to prolong your season. But a non-stickler definition of "must-win" would encompass games that are merely extremely important to win. For the Celtics, you could argue that tonight represents such a game. In all of NBA history, only fifteen teams — something like 6 percent — have come back from 2-0 deficits to win a best-of-seven playoff series, so the chances are that, if the Celtics lose tonight, they will never recover. 
But the Celtics' Jeff Green went beyond calling tonight's game a "must-win." To him, every playoff game is a must-win. 
That's a good mind-set to be in. (Ideally, you would have that mind-set for every game, whether in the regular season or playoffs.) But it's wrong. Every playoff game is not a must-win. Game 1 certainly wasn't. If it were, the Celtics, having lost it, would already be doomed. 
Carmelo Anthony, for his part, says the Knicks are "approaching this game as a must-win here on our home court." Again, that's fine from a motivational standpoint, but let's be clear: This game is in no way a "must-win" for the Knicks. Losing would certianly be worse than winning, but they would still be in a good position to beat the Celtics, a lowly seventh seed, if they headed to Boston tied 1-1. If tonight's game is a "must-win" for the Knicks, the label has officially lost all meaning.