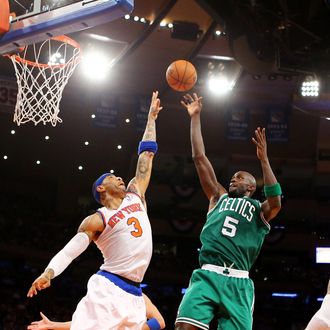 Kevin Garnett, right, sucks acording to Knicks fans.
Photo: Al Bello/2013 Getty Images
Last night, the Knicks took a 2-0 lead on the Celtics in their first-round playoff series. During the course of the game, the Garden crowd chanted "KG sucks" at Celtics big man and cereal expert Kevin Garnett. But that's not what some viewers at home heard.
So just to clarify: Fans at Madison Square Garden were not chanting "Yankees suck" last night. New York stands united with Boston and all, but let's not go crazy.