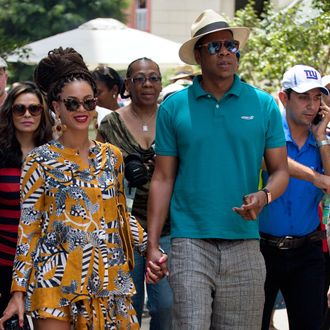 Mr. and Mrs. Carter in Havana.
Photo: Ramon Espinosa/AP
We have very much enjoyed Beyoncé and Jay-Z's fifth-anniversary trip to Cuba, but Republican Florida representatives Ileana Ros-Lehtinen and Mario Diaz-Balart were not impressed by the glamorous shots of the Carters hanging out in Havana. In a letter to the Treasury Department's Office of Foreign Assets Control, Diaz-Balart and Ros-Lehtinen questioned whether Jay and Bey's celebration broke the rules for Americans visiting the island. "Despite the clear prohibition against tourism in Cuba, numerous press reports described the couple's trip as tourism, and the Castro regime touted it as such in its propaganda" wrote Ros-Lehtinen and Diaz-Balart, who added that the limits are intended to keep tourist dollars away from the country's repressive leadership.
While President Obama eased restrictions on travel to the island in 2012, vacationers are still supposed to have "a full-time schedule of educational exchange activities that will result in meaningful interaction between the travelers and individuals in Cuba," according to U.S. Treasury Department guidelines. While we tend to assume that every interaction Beyoncé has with any individual is filled with meaning, we can understand how that might not be technically true.