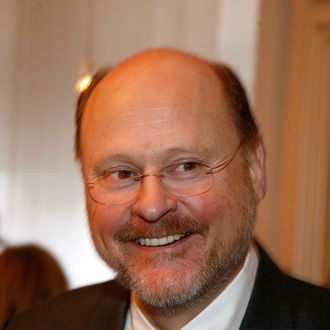 Joe Lhota.
Photo: Andy Kropa/2013 Getty Images
Looking past the Republican primary, on Monday, Republican candidate Joe Lhota launched his attack on potential Democratic opponent Christine Quinn over her plan to create an NYPD inspector general. "I can't tell you how reckless and dangerous I believe her support of this bill actually is," said Lhota at a campaign event on the steps of City Hall, adding that the plan would "handcuff" the department. Echoing Mayor Bloomberg and Ray Kelly, Lhota declared that the NYPD "has more oversight than any other police department in the United States of America," signaling that he's hoping to make the growing rift between Quinn and Bloomberg work in his favor. When asked about the current mayor's record on oversight, Lhota said, "I don't see any deficiency at all, whatsoever."
Quinn responded that the plan wouldn't limit the NYPD's ability to do its job in any way. "Joe Lhota simply does not know what he is talking about," said Quinn spokesman Jamie McShane. "He is either ignorant about the details or willfully ignoring the facts."
Quinn also tried to use Lhota's close relationship with Mayor Giuliani against him, but the plan backfired. McShane said that the inspector general "would simply give recommendations for the mayor and NYPD to review. Even Joe Lhota's mentor, Rudy Giuliani, supported a similar proposal when he was running for mayor." Quinn's staff distributed a memo to reporters on Giuliani's support for an independent police monitor while running for mayor. However, the New York Times notes, "the memo did not mention that, once Mr. Giuliani became mayor, he forcefully fought a plan by the Council to create such a monitor, even suing to block it." Luckily for Quinn, there are five months until the general election, so she has some time to come up with a better line of attack.