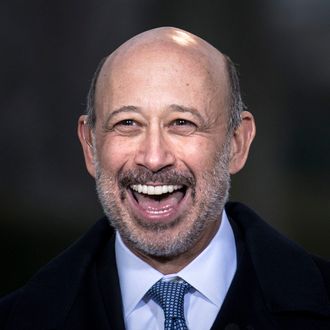 Photo: Brendan Smialowski/AFP/Getty Images
The last time we checked in with Goldman Sachs CEO Lloyd Blankfein's facial hair, he was nuzzling it against ladies' cheeks at charity dinners.
Now Blankfein's beard has made its first known YouTube appearance, in a slightly awkward video introduction to Goldman's 2012 annual report. It looks good! It's full, it's two-tone, its steel-gray hue looks good with his shirt-tie combo. We approve.
Although we're a bit worried about the deep wrinkles in Blankfein's forehead as he squints at the TelePrompTer. Lloyd! Didn't your mother ever tell you your face will freeze that way?