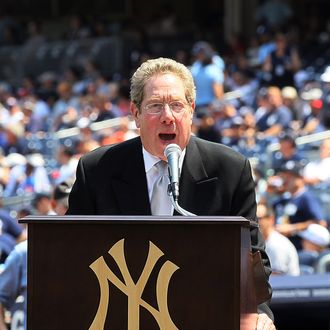 John Sterling.
Photo: Jim McIsaac/Getty Images
Last night, new Yankees Lyle Overbay and Brennan Boesch hit their first homers of the season in a 14–1 drubbing of the Cleveland Indians. This, of course, meant that radio announcer John Sterling got to introduce two more personalized home-run calls into his growing repertoire. We've long been chronicling Sterling and his catchphrases, which are simultaneously wonderful and awful, and we spent much of last year disappointed in his output. (We still haven't forgiven him for his weak 2011 Jesus Montero call.) Thankfully, things haven't been so bleak this season, so here's an important, comprehensive breakdown of the five home-run calls Sterling has introduced so far in 2013.
Travis Hafner
Call: "Travis is a Pronx Bomber … a Hafner homer."
Origin: Part one: a reference to Hafner's nickname, Pronk, and the Yankees' nickname, the Bronx Bombers. Part two: "Hafner" and "homer" begin with the same letter.
Verdict: Sterling, as we know, likes to incorporate nicknames into his catchphrases. And so this is pretty much exactly what we're looking for in an absurd John Sterling home-run call. The phrase "Pronx Bomber" seems so obvious now, yet it was sitting right there in front of us prior to Opening Day, and we didn't see it coming. As for the second part? Weak.
Vernon Wells
Call: "The Bronx is Vernon. Wells rings the bells."
Origin: Part one: a reference to a line used by Howard Cosell during the broadcast of Game 2 of the 1977 World Series, when ABC's camera showed a fire at a public school near Yankee Stadium. Said Cosell, using a line that would later be used in the title of a book by Jonathan Mahler: "There it is, ladies and gentlemen, the Bronx is burning." Part two: "Wells" rhymes with "bells."
Verdict: The second part here was rightly retired after Wells's first homer, but the first part remains. We never thought Sterling could ever approach the ridiculousness of his Lance Berkman call, which involved a tweaked line from the musical Camelot, but this comes awfully close. We're not even sure what "the Bronx is Vernon" even means, but whatever, it's brilliant and terrible and perfect. This call is such a home run it should have its own insane John Sterling catchphrase.
Kevin Youkilis
Call: "A nuke from Youk."/"Youk hits a nuke." (Wording was changed for Youkilis's second homer.)
Origin: A reference to the destructive capabilities of nuclear weapons.
Verdict: If the Wells call is the forced-catchphrase equivalent of a home run, Youkilis's call, fittingly, is the equivalent of a walk. Not terrible, but not spectacular. It's a little obvious, and it's the second call in which Sterling references weapons of mass destruction (see also: "an A-Bomb from A-Rod"), so that's a little disturbing. Props to commenter henry_k_duff for nailing this one, word for word.
Lyle Overbay
Call: "Lyle hits it a mile."
Origin: "Lyle" rhymes with "mile."
Verdict: Meh. When Sterling can't think of anything particularly clever, he falls back on either rhyming or alliteration. (Sterling later clarified that saying he hit the ball a mile was an exaggeration. In case listeners were unsure.)
Brennan Boesch
Call: "BB hits a BB. That's Boesch, by gosh."
Origin: Part one: Boesch's initials are BB, and BBs are tiny projectiles that can be fired out of a special gun. Part two: "Boesch" rhymes with "gosh."
Verdict: Slightly more creative than Overbay's home-run call — to the best of our knowledge, Sterling has yet to incorporate a player's initials into one of his calls — but still not great. As for the second part, we do like it when Sterling uses multiple calls for one person (see also: "A Tex message … you're on the Mark, Teixeira."), but it's nothing special.