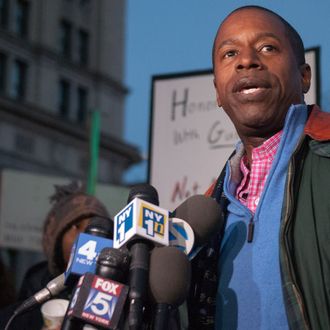 Photo: Julia Reinhart/? Corbis. All Rights Reserved.
Democratic State Senator Malcolm Smith wanted to be mayor of New York City so badly that he was willing to pay city Republicans thousands of dollars to let him run on their ticket, according to charges filed by the FBI this morning. Smith was arrested at his home around sunrise, while City Councilman Daniel Halloran, Smith's alleged ally on the other side of the aisle, was handcuffed in Queens. "I have no idea," Halloran told reporters of the arrest. "I'm sure the truth will come out once I have an opportunity to find out what's going on."
The FBI believes they have some idea: "Smith was trying to buy off Republican leaders because he needed the party's support in at least three boroughs in order to run as a GOP candidate without even changing his own party affiliation," according to the Post. The Times reports that Smith was allegedly rewarding Halloran for his help along the way, although Smith "steadfastly denies these charges," his lawyer said.

Also picked up in the probe were Noramie F. Jasmin, the mayor of Spring Valley in Rockland County; her deputy Joseph Desmaret; and two others identified as Vicent Tabone and Joseph Savino.
Prior to this mess, Halloran was best known for a conspiracy theory on intentionally slow snowplows, which proved to be unfounded. Smith, whose name has come up in at least two other bid-rigging and corruption scandals, most notably held a sad spectacle of a press conference in Times Square to denounce Lil Wayne for reasons no one can remember at this point, if they ever knew. The stunt was part of a press blitz last summer, in which he attempted to drum up support for a mayoral run on the GOP side. "Smith and the Republicans," our own Chris Smith wrote at the time, "have nothing to lose. Maybe we haven't hit the bottom in 2013 candidate speculation. But we're getting close." And here we are.