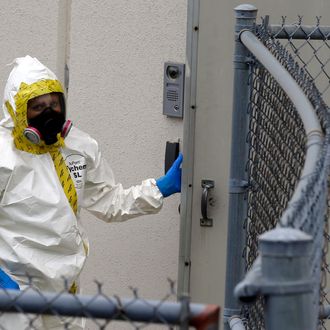 A firefighter dressed in a protective suit walks into a government mail screening facility in Hyattsville, Md. on April 17, 2013.
Photo: Alex Brandon
After a day of frantic updates about a possible suspect in the Boston bombing and suspicious packages found around Capitol Hill, we can all rest easier on at least one front. On Wednesday, night federal agents arrested Paul Kevin Curtis of Corinth, Mississippi for allegedly sending letters laced with the poison ricin to President Obama and Mississippi senator Roger Wicker. The FBI said that both letters, which were discovered at off-site mail facilities, were postmarked April 8, 2013 from Memphis. They included the phrase "to see a wrong and not expose it, is to become a silent partner to its continuance" and were signed "I am KC and I approve this message."
According to the Washington Post, Curtis is known by law enforcement as someone who frequently writes to lawmakers. After the FBI revealed that a third letter was sent to a Mississippi justice official, Lee County Justice Court Judge Sadie Holland came forward to say that she received a similar letter. Holland, who is 80, said she opened a letter on April 10 that contained a sand-like substance. "It just said something to the effect, 'I tried to talk to you and you would not listen. Now it is time that someone must die,'" Holland told the Clarion-Ledger, adding that it had the same closing line as the other two letters.
While ricin can be deadly if inhaled, thankfully Holland appears to be fine. "She said she sniffed that letter and her nose has been twitching a little bit, but that's about it," said her son, Democratic state Rep. Steve Holland. Judge Holland is taking the news shockingly well, joking, "Boy, I must be important. I'm right up there with the president and Senator Wicker, huh."
Many news outlets initially reported that the suspect was Kenneth Curtis from Tupelo, Mississippi, and NBC News has added an editor's note to its story that reads, "An earlier version of this story misidentified the suspect, based on information from federal officials." Though information on the suspects in today's two biggest stories was misreported, rest assured that no time was wasting in digging through Kevin Curtis's online presence. He appears to be an Elvis impersonator (there's video, much to Twitter's delight), and BuzzFeed reports that in his online writings, Curtis describes "the actions of what I believe to be that of a secret shadow government in which I feel have been put into place by higher powers to be in order to hide the truth behind the illegal organ harvesting market which I began investigating in 2000." The page ends with, "This is Kevin Curtis& I approve this message."