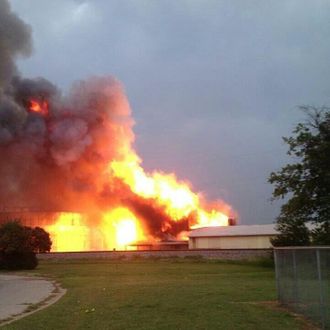 A major explosion at a Texas fertilizer plant has reportedly destroyed part of the town of West, north of Waco, injuring approximately 160 and killing as many as 15. The explosion destroyed or damaged several buildings, including a nursing home. According to Waco's KWTX, "Scanner traffic indicated that some residents of both the nursing home and apartment building were severely injured." The blast at 7:50 p.m. CDT happened after "firefighters were dispatched to the plant earlier in the evening after an earlier fire rekindled," KWTX reports.
Update, 3:11 a.m.: Sgt. William Patrick Swanton of the Waco, Texas Police Department said at a press conference that that while the numbers haven't been confirmed, about 50 to 75 homes have been damaged and "I can tell you there are hundreds of people who have been injured." He added that rescuers are searching "house to house, businesses to business, trying to get people out of the area," and are "still pulling people out of their homes."
Update, 2:34 a.m.: According to ABC News's tally, local hospitals are treating 172 people. "At least 24 of those were in critical condition, and 38 in serious condition."
Update, 1:46 a.m.: CNN reports that about half the town, which has a population of about 2,800, has been evacuated.
Update, 1:26 a.m.: The explosion registered 2.1 on the Richter scale, according to USGS, which noted that "the magnitude measures only the ground motion, not the air wave, so is substantially less than the true size of the event."
Update, 1:15 a.m.: "We do have confirmed fatalities," Texas Department of Public Safety Trooper D.L. Wilson told reporters at a news conference. He wouldn't confirm or deny that previously reported figure of up to 70 dead, but he said, "It's going to be a number."
Wilson also said there were a "tremendous amount of injuries, probably over 100 at this time." He said a 50-unit apartment building had been demolished to the point where it looked "like a skeleton standing up."
He compared the damage at the explosion site to the Murrah Building in Oklahoma City (where the same chemicals caused the explosion), and to scenes in Iraq. The plant, he said, is still smoldering, and is too dangerous for firefighters to go into. "We're worried about people right now, not property."
Update, 12:50 a.m.: A map of the fertilizer plant, in relation to the rest of the town of West:
Update, 12:20 a.m.: West Mayor Tommy Muska tells Piers Morgan that "the blast took out a five-block radius of the fertilizer plant." He said some 60 to 80 buildings around the plant had been damaged or destroyed, including a school, a nursing home, and an apartment building. The mayor, who is also a firefighter, said, "There are going to be casualties. I just don't know a number. There will be a number of injuries. We're going house by house in a search and rescue."

Update, 12:08 a.m.: ABC News is reporting 75 to 100 houses destroyed, while one witness told the Waco Tribune that "Every house within about four blocks is blown apart."
A hotline has been set up for those looking for loved ones: 254-202-1100
Update, 11:45 p.m.: KWTX is now reporting that "West EMS Director Dr. George Smith says as many as 60 or 70 people died and hundreds were injured Wednesday night in a fertilizer plant explosion in West." Other outlets aren't reporting as many casualties (CNN says two), but it appears this will lead to some deaths.
Somebody captured the explosion in the below YouTube video, apparently with a child in the car. It's very big.
Update, 11:32 p.m.: About 60 people have been treated for injuries so far, Hillcrest Hospital CEO Glenn Robinson told CNN. And KWTX reports that "the fire started in an anhydrous ammonia tank and spread to the building, authorities said." They were worried a second tank would explode in the ongoing fire, so a makeshift staging area at a football field had to be evacuated. Traffic moving into the town of West has slowed as emergency vehicles stream in, the AP reports. Meanwhile, Texas Gov. Rick Perry issued this statement:
"We are monitoring developments and gathering information as details continue to emerge about this incident. We have also mobilized state resources to help local authorities. Our thoughts and prayers are with the people of West, and the first responders on the scene."