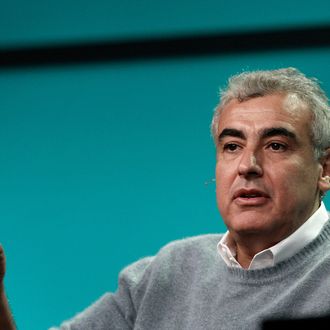 Photo: Jonathan Alcorn/Bloomberg via Getty Images
After Bill Clinton let it slip that billionaire hedge-fund manager Marc Lasry — a reliable donor, close friend, and Chelsea's old boss — would be President Obama's new pick for ambassador to France, as Clinton himself had suggested, it seemed like a done deal. But before the move was officially announced, Lasry pulled out suddenly this week, citing complications with his role at Avenue Capital, where he works as CEO and chairman. "I am very grateful to have been considered," Lasry said in a rote letter. "I would like to put the speculation to rest and let you know that I will be remaining at Avenue."
According to the New York Post today, he left out the juicy parts, including his "close friendship" with a 27-year-old Russian who was among the 34 people charged last week in connection to a high-stakes poker game at the Carlyle Hotel with alleged mob ties.
"Marc Lasry is a big-time gambler, in golf and poker. He's a 'master of the universe' type," a source told the Post, confirming your average Democrat's fears about the party's cabal of extremely rich people. "It's not that he committed a crime, but it opens a can of worms."
"Poker is math, so I enjoy playing it because I think there's a lot of math involved," Lasry has said in the past. "And it's fun. It's fun to play with others." Especially others that have as much money to lose as he does, we assume.
The Carlyle bust is its own can of worms. Allegedly run out of the upscale Helly Nahmad Gallery, the game "catered primarily to multimillionaire and billionaire clients" to the tune of $100 million in laundered gambling earnings, according to the FBI. In addition to the leader of a Russian organized-crime gang, the indictment named Molly Bloom, the "poker princess" famous for setting up games for Leonardo DiCaprio, Matt Damon, and Ben Affleck.
Lasry, one of the key Wall Street billionaires to stick with Obama in 2012, has been known to play with moneymen like Boaz Weinstein and David Bonderman, who was once quoted as saying, "I have a rule. Never play cards with Marc for money." And yet a Post source was incredulous this didn't mix with a government appointment: "I can't believe that Obama admits in a book that he snorted cocaine and yet Marc Lasry can't be named ambassador to France because he played cards."
If only Anna Wintour were still available.