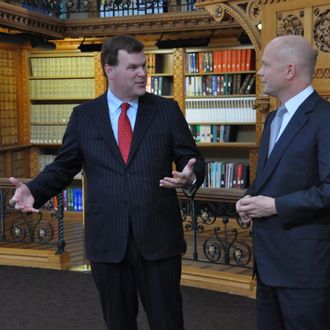 "Obama was shot." – John Baird informing a friend that his dog, Obama, received a rabies vaccine.
Photo: Courtesy of John Baird
Margaret Thatcher officially died today for the first time after previously fake-dying three times: In August of last year, rumors of the Iron Lady's demise spread throughout the media thanks to a tweet from the real-seeming (but not real) news account @OfficialSkyNews. In May of last year, a tweet from a fake Carla Bruni Twitter account announcing Thatcher's death was picked up by the French news service @LesNews and eventually debunked by CNN. But the first time that Thatcher "died," in 2009, was also the best time. And, of course, it was all Canada's fault:
A misconstrued text message announcing the passing of a beloved pet has sparked a flurry of diplomatic activity in Canada.

Transport Minister John Baird sent a message reading: "Thatcher has died".

Conservative Prime Minister Stephen Harper was soon informed that 84-year-old former British Prime Minister Margaret Thatcher had passed away.

But it was actually Mr Baird's beloved cat, named after his political heroine, who had died.

The confusion spread around a gala event in Toronto, where some 1,700 luminaries were gathered at a black tie event.

Calls to puzzled officials in both 10 Downing Street and Buckingham Palace followed.
This is why we can't have nice things.