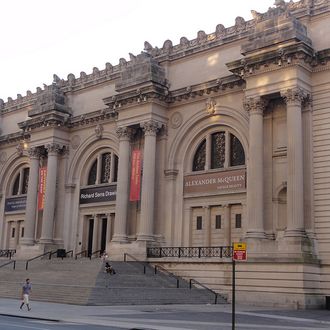 Thomas Campbell, the Metropolitan Museum of Art's director, weighed in today on the two lawsuits that accuse the museum of purposely misleading the public about its $25 admission fee being merely a suggested contribution. In a statement posted on the museum's website, Campbell says, "The recommended admission policy is clearly posted at all entry points to the Museum's Main Building and The Cloisters, on all printed materials, and on our website." All visitors have to do is read the fine print, and (allegedly) argue with museum staffers. 
It does say "Recommended" in small type below the admission price on all of the museum's signs. The website features the additional phrase "To help cover the costs of exhibitions, we ask that you please pay the full recommended amount." Visitors are encouraged to save time buy buying tickets in advance online, and are only given the option of paying the suggested price. The incredibly fine print at the bottom of the page reads:
By agreeing to purchase these tickets in advance and online, you are agreeing to pay the full recommended admission of $25 for adults, $17 for senior citizens (65 and older) and $12 for students. If you would like to pay less than the recommended admission, please go directly to The Metropolitan Museum of Art to pay as you wish.
Campbell also says, "Should a visitor ask a cashier about the admission policy, the message is always equally clear: the amount is voluntary; please pay what you wish." However, a former Met supervisor who plans to provide evidence in the suit told the Post recently that he was frequently told to threaten people who didn't pay the full amount. "I arranged for security officers to forcibly remove the museum visitors who demanded entry without paying," he said. It's not hard to see how that might leave some visitors confused about the admissions policy.
The headline has been updated for clarity.