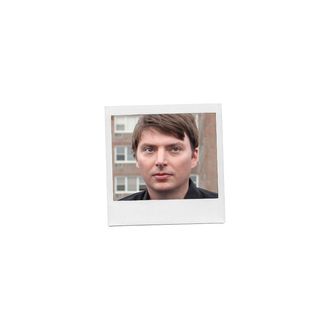 Mike O'Brien.
Photo: Melissa Hom
Name: Mike O'Brien         
Age: 36
Neighborhood: Chelsea
Occupation: Comedian; Writer, Saturday Night Live; Host, Seven Minutes in Heaven. Next Tuesday, April 16, you can catch him performing at the Moon comedy show at Union Pool, alongside comedian Kevin Allison, juggler Will Shaw, and more. The show will also be live-streamed at DailyMotion.
Who's your favorite New Yorker, living or dead, real or fictional? 
Iron Mike Tyson.
What's the best meal you've eaten in New York? 
A slice of pizza with my parents, after we'd been walking around all day and were starving.  My dad still talks about how it was the best piece of pizza in his life. It was a by-the-slice place on Eighth Avenue, but I don't remember the exact location because at the moment it was just to tide us over. But then we couldn't stop talking about it.
In one sentence, what do you actually do all day in your job?  
I think of situations that are interesting or funny to me and then decide if they are a movie, a sketch, a tweet, or nothing at all. Also, I lightly rebel against the rules.
What was your first job in New York?
SNL writer.
What's the last thing you saw on Broadway?
A fantastic production of Who's Afraid of Virginia Woolf? by Steppenwolf.
Do you give money to panhandlers?
Yes, whenever I pass through Hooverville and see a panhandler, I drop a ha'penny in his bindle.
What's your drink?
Bulleit Bourbon. 
How often do you prepare your own meals?
Almost never.  But I want to start learning to cook when the SNL season ends.  Maybe buy a bunch of pans or whatever.   
What's your favorite medication?
A gentleman always chooses Imodium.
What's hanging above your sofa?
A blown-up photo of a kid on a beach, taken by my friend Pete Grosz.  Oh, and it's not weird 'cause I don't know the kid. (Worse?)
How much is too much to spend on a haircut?
$40.  Unless they are willing to give a long, slow shampoo.  I'll pay anything for a long, slow shampoo.
When's bedtime?
4:69 a.m., baby. 
Which do you prefer, the old Times Square or the new Times Square?
New Times Square when it's completely empty and all the lights and billboards are for no one.  Like during the hurricane. 
What do you think of Donald Trump?   
I think that he is someone I would never hang out with, unless he said he liked some comedy bit of mine.  And even then I'd tell him I had to be somewhere in a few hours.
What do you hate most about living in New York?
Anytime someone honks for more than three seconds. Cabbies, I'm looking at you.  (I assume thousands of cabbies are reading this right now.  They were all hitting refresh on their computers, waiting for it to come out.)
Who is your mortal enemy? 
My grade school principal.  A nun who interrogated me about cutting in line until I finally broke down and cried.  And then I saw the corners of her mouth form into a little smile.  I'd also say the guy who stole the front wheel on my bike. 
When's the last time you drove a car? 
On a regular basis? 1997.  But I drove a rental car for a few days this February in L.A. It was terrifying. Felt like everyone was just flying around me.  I had a real "Brooks from Shawshank" couple of days …
How has the Wall Street crash affected you? 
It gives production companies an excuse as to why they won't buy my ideas, instead of them just admitting they don't like the ideas. "Buddy, it's hilarious. But, you know, with the recession and all …  Hey, what was Lohan like when she hosted?"
Times, Post, or Daily News? 
Whoever has the best pun on the cover (Times is regularly coming in third).
Where do you go to be alone?
A park bench by the Hudson River. 
What makes someone a New Yorker? 
Knowing the name of your nearest bodega owner's children. (I don't.  But I'll get on it when the season ends … )