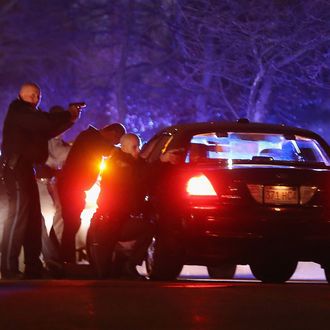 Police with guns drawn search for a suspect on April 19, 2013 in Watertown, Massachusetts.
Photo: Mario Tama/2013 Getty Images
One Boston bombing suspect, Tamerlan Tsarnaev, is dead and another, his younger brother Dzhokhor, is on the run after a chaotic scene unfolded in Boston late Thursday night. At about 10:30 p.m., an MIT campus police officer was found shot in his vehicle. The two men involved in the shooting then carjacked a vehicle in Cambridge. Police trailed the car to neighboring Watertown as the suspects threw explosives from the vehicle. The suspects exchanged gunfire with police, leaving an MBTA officer and one of the suspects seriously injured. Tamerlan was pronounced dead at the hospital. Police are searching for the second suspect in Watertown. Read on for live updates.
Update, 6:12 p.m.: At a press briefing, Gov. Patrick lifted the "stay indoors" request and announced that public transit is open, but urged the public to "remain vigilant" because Dzhokhor is still at large.
Update, 6:00 p.m.: More from the Globe, on an early narrative about the brothers' relationship: "A picture has begun to emerge of 26-year-old Tamerlan Tsarnaev as an aggressive, possibly radicalized immigrant who may have ensnared his younger brother Dzhokhar – described almost universally as a smart and sweet kid – into an act of terror that killed three people and injured more than at the finish line of the Boston Marathon on Monday."
Additionally, "Dzhokhar Tsarnaev had passed an apparently normal day at the school Wednesday, according to a UMass official, working out at the gym, then sleeping in his single-unit room at the Pine Dale Hall dorm that night, while law enforcement officials were frantically scanning photos and video trying to identify him and his brother."
Update, 5:40 p.m.:
Update, 5:30 p.m.: From the Boston Globe's latest story: "The desperate 19-year-old suspect in the Boston Marathon terror bombings ran over his own wounded brother as he fled police, officials said. Considered armed and dangerous and possibly wearing a suicide vest, he remains on the loose, sought by legions of heavily armed police as nearly a million residents of Boston hunker down behind locked doors, in an unprecedented security measure."

"This kid is obviously going down fighting," an official said. "You can rest assured the cops are looking for a fight right now."
Update, 5:00 p.m.: State Police are now saying the brothers did not rob a 7-11 at the start of last night's chase, as reported earlier. A law-enforcement spokesperson said "the bombers did purchase gas at a gas station in Cambridge later in the chain of events and we recovered images of them there."
Update, 4:45 p.m.: NBC News reports that seven IEDs "have been recovered so far, some in Watertown & some at the house in Cambridge."
A law enforcement briefing is scheduled for 5:30 p.m. with more information on the progress in the search for Dzhokhor Tsarnaev.
Update, 4:15 p.m.: CBS reports that "Tamerlan threw a pressure cooker bomb at police before he was shot and killed."
Update, 3:25 p.m.:
Update, 2:50 p.m.: CBS News reports that a friend of Dzhokhar Tsarnaev said he spoke to him on campus at UMass Darthmouth yesterday. Dzhokhar reportedly gave him a ride and said, "I have some things to take care of."
According to an aunt of the Tsarnaev brothers, Tamerlan was married and recently had a child. "He was very happy about his daughter," she said.
The Times reports that the FBI and police are seeking "a number of people with whom we would like to speak in furtherance of the investigation," but were "not ready" to name those people as alleged accomplices or co-conspirators.
Update, 2:19 p.m.: According to a new FBI alert, "Dzhokar Tsarnaev may be driving a 1999 four-door, green Honda Civic with Massachusetts license plates reading 116GC7."
Update, 2:10 p.m.: Reddit claims to have a (warning: very graphic!) leaked photograph of the dead suspect, Tamerlan Tsarnaev, from the morgue. TMZ has allegedly confirmed its validity: "Law enforcement sources tell TMZ … the photo is authentic. One source tells us officials are investigating to find out who leaked the picture."
Update, 1:58 p.m.:
Update, 1:26 p.m.: "The FBI is at the northern New Jersey home of the sister of the Boston Marathon bombing suspects," the AP reports. She is reportedly "very upset" and said "she doesn't know what got into them," but said she is sorry for "all the people who are hurt."
Update, 1:07 p.m.: The search is ongoing, although details are scarce. "Things change quickly," said Massachusetts State Police Col. Timothy Alben. "We are progressing through this neighborhood, going door to door, street to street."
Update, 12:55 p.m.: NBC reports that deceased suspect Tamerlan Tsarnaev "flew in and out of John F. Kennedy Airport last year and was out of the country for six months, and investigators said they want to know if he received any terror training while he was overseas." He reportedly left New York for Sheremetyevo, Russia, on January 12, 2012, and returned in July.
Update, 12:42 p.m.: "Governor Deval Patrick said "it is important that folks remain indoors," and urged people to "keep the doors locked."
Update, 12:00 p.m.:
Update, 11:45 a.m.: For more information on the suspects, read "27 Things to Know About Dzhokhar Tsarnaev" and "24 Things to Know About Dead Boston Bombing Suspect Tamerlan Tsarnaev."
Update, 11:38 a.m.: Ramzan Kadyrov, the president of Chechnya, released a statement on Instagram: "Tragic events have taken place in Boston. A terrorist attack killed people. We have already expressed our condolences to the people of the city and to the American people. Today, the media reports, one Tsarnaev was killed as [police] tried to arrest him. It would be appropriate if he was detained and investigated, and the circumstances and the extent of his guilt determined. Apparently, the security services needed to calm down the society by any means necessary."
"Any attempt to draw a connection between Chechnya and Tsarnaevs — if they are guilty — is futile. They were raised in the United States, and their attitudes and beliefs were formed there. It is necessary to seek the roots of this evil in America. The whole world must struggle against terrorism — that we know better than anyone else. We hope for the recovery of all the victims, and we mourn with the Americans."
Update, 11:00 a.m.: "Local, state and federal agencies, including Secret Service, are on scene. Dog teams, explosives experts, and SWAT members," the Globe reports, as police seem to be gathering at one location.
According to NBC, there are concerns the house holding the suspect "may be booby-trapped." The media is being told to stay back.
Update, 10:20 a.m.: A YouTube account that appears to have belonged to the dead suspect, 26-year-old Tamerlan Tsarnaev, included videos affiliated with Al Qaeda in playlists titled "Islam" and "Terrorists."
Update, 10:05 a.m.: "Police fear suspect in terror bombings is wearing an explosive vest, source tells Globe."
Update, 9:54 a.m.: The suspects' father, Anzor Tsarnaev, spoke to the Associated Press from Makhachkala, Russia, and said, "My son is a true angel. Dzhokhar is a second-year medical student in the U.S. He is such an intelligent boy. We expected him to come on holidays here."
Update, 9:49 a.m.: The man fatally shot overnight:
Update, 9:30 a.m.: "Police were staging a major operation on Arsenal Street in Watertown, where residents have been ordered to shelter in place and not answer their doors since early this morning," the Times reports. "In addition to the police and SWAT teams, heavily armored vehicles are assembling on Arsenal Street."
And the FBI has released another photograph of the second suspect:
Update, 8:44 a.m.: A third person has been taken into custody at the home of the brothers, according to several networks. 
CNN has gone to tape delay."We're putting this on delay so that… we don't show anything violent," says Jake Tapper.
Update, 8:36 a.m.: NBC's Pete Williams reports a "third person" of relation to the brothers authorities are worried about.
Update, 8:27 a.m.: WBZ radio Boston reports that authorities believe Dzhokhar has an assault rifle, possibly bombs, and is prepared to die.
Update, 8:04 a.m.: At a press conference Gov. Deval Patrick urged "all of Boston" to stay indoors. Colonel Timothy Alben of the Massachusetts State Police said, "We need more time. We're making significant progress up there, but it may take hours."
The also revealed that the injured MBTA officer is currently in surgery.
Update, 7:54 a.m.: The second bombing suspect has been identified as Russian-born 26-year-old Tamerlan Tzarnaev.
Update, 7:48 a.m.: In 2011, Dzhokhar Tsarnaev was one of 45 high school seniors who recieved a $2,500 scholarship from the City of Cambridge.
A wanted poster has been released for Tsarnaev that lists his date of birth as 7/22/1993.
Update, 7:07 a.m.:  According to the AP, the men are brothers. The surviving suspect has been identified as Dzhokhar A. Tsarnaev, 19, of Cambridge, Mass.
Update, 6:42 a.m.: Sources tell the Associated Press that the suspects are from a region of Russia near Chechnya and have been in the U.S. for at least a year.
Update, 6:29 a.m.:
Update, 6:20 a.m: SWAT officers are going house to house in Watertown, clearing out residents and looking for the suspect.
Update 6:16 a.m.: Police have confirmed that the crime spree started at around 10:30 p.m. on Thursday with the robbery of a Cambridge 7/11, apparently by the suspect in the white hat.
Update, 5:48 a.m.: At a press conference, public officials warned residents of Watertown, Newton, Waltham, Belmont, Cambridge, and Allston-Brighton to "stay indoors, stay in your homes for the time being." In Watertown, cars aren't allowed on the roads and businesses aren't allowed to open. Officials said people waiting for the transit system to reopen shouldn't congregate at MBTA stops.
Update 5:41 a.m.: All MBTA service has been suspended at the request of police.
Update, 4:44 a.m.: Watertown police confirmed in a press conference that the incident involves the suspects in the Boston Marathon bombing. The man wearing a black cap in photos released by the FBI was injured in an altercation with police and died later at the hospital.
Police are still searching for the second suspect, the man pictured in a white baseball cap. A 20-block perimeter has been set up around his possible location. Watertown residents are being urged to stay inside and not open their doors for anyone but a police officer. "We believe this to be a terrorist," said the police spokesman. "We believe this to be a man who has come here to kill people. We need him in custody."
Update, 4:23 a.m.:
Update, 4:12 a.m.: One suspect was fatally shot by police and the other is still at large, according to the Middlesex County D.A.'s Office. The MIT campus police officer was fatally shot by two men who then committed an armed carjacking in Cambridge. The D.A.'s press release reads:
A short time later, police received reports of an armed carjacking by two males in the area of Third Street in Cambridge. The victim was carjacked at gunpoint by two males and was kept in the car with the suspects for approximately a half hour. The victim was released at a gas station on Memorial Drive in Cambridge. He was not injured.

Police immediately began a search for the vehicle and were in pursuit of the vehicle into Watertown. At that time, explosive devices were reportedly thrown from car by the suspects. The suspects and police also exchanged gunfire in the area of Dexter and Laurel streets. During this pursuit, an MBTA Police officer was seriously injured and transported to the hospital.

During the pursuit, one suspect was critically injured and transported to the hospital where he was pronounced deceased. An extensive manhunt is ongoing in the Watertown area for the second suspect, who is believed to be armed and dangerous.
Update, 4:05 a.m.: Boston Police Commissioner wrote on Twitter:
Update, 3:45 a.m.: Massachusetts State Police issued this warning:
Update 3:35 a.m.: WHDH is reporting that the men involved in the Watertown shootout are indeed the Boston bombing suspects, and one has been shot and killed. The other is said to be on the loose.
Update, 3:23 a.m.: MIT confirms that a campus police officer was "shot and killed in the line of duty."
Update 3:11 a.m.: Two Watertown residents tell the New York Times that they saw two men exchange gunfire with the police while taking cover behind a black Mercedes SUV. Andrew Kitzenberg says the men exchanged "constant gunfire" with the officers, and fired at a police SUV headed toward them until it rolled out of control. The shooters then threw a large bomb at the officers, and one man ran toward police. He was tackled or possibly shot. Per the Times:
Meanwhile, the other young man, said Mr. Kitzenberg, got back into the SUV, turned it toward officers and "put the pedal to the metal." The car "went right through the cops, broke right through and continued west."

The two men left "a few backpacks right by the car, and there is a bomb robot out there now." Police had told residents to stay away from their windows, he said.
A police spokesman says two suspects have been accounted for in Watertown, but it's unclear if there are others still at large.
Update, 2:35 a.m.: Andrew Kitzenberg, @AKitz on Twitter, says he watched the scene unfold on the street outside his apartment in Watertown. He reports seeing gunfire exchanged between police and a suspect, as well as a bomb explosion.
Update, 2:10 a.m.: The situation is still very chaotic and unclear, but here's what we understand has happened so far, via the local broadcasts and reporting in the Boston Globe:
First the

MIT

police officer was shot multiple times and killed shortly before 11 p.m.

MIT

has since announced that its campus was

 

safe.
Then, about two hours later, a carjacking in Cambridge that hasn't been clearly connected to the shooting or the bombings on Monday, unfolded into a wild police chase that culminated in a gunfight. Police on a scanner made reference to some kind of explosives being thrown, but it's unclear exactly what that

 

was.
The Globe reports that "The Cambridge bomb squad arrived in Watertown shortly after 1:30 a.m.," while

WCVB

has been describing some kind of explosive device left on a street in Watertown. One resident of Prentiss Street, speaking with the Globe, described a boom around 1 a.m., "like a stick of dynamite went off." Per the Globe:
At Arsenal Court and Arsenal Street in Watertown, an officer bellowed: "Ya gotta get outta here. There's an active shooter here with an active explosive. Go!"
Police were demanding that cellphones be turned off.
At least one suspect has been arrested, with footage of him lying on the ground airing on

CNN

and

 

WCVB

.
At 2:10 a.m., reporters are describing officers running between houses in Watertown, appearing to search for something or someone. Watertown residents are being warned to stay

 

indoors.
Update, 1:19 a.m.: There is some kind of chaotic scene unfolding in Watertown, east of Cambridge. Suspects have apparently exchanged fire with police, and explosions have been reported. It's unclear if it's related to the MIT shooting, but for now the live coverage on the local ABC affiliate is the best way to follow this.
Update, 12:04 a.m.: NBC Connecticut is now reporting via Twitter that the officer has died.
Update, 11:42 p.m.: Police at M.I.T. say an "active shooter" is still at large after shooting a campus police officer Thursday evening. The school's emergency information website said gunshots were first reported around 10:50 p.m. near Building 32, and advised people on campus to "please stay indoors and away from Building 32((Stata) and surrounding area." The officer suffered "life-threatening injuries," state police told WCVB in Boston. The campus paper, The Tech, reports that the officer has been taken to Massachusetts General Hospital.