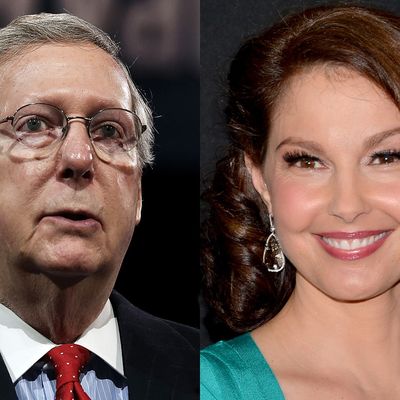 Photo: Alex Wong; Alberto E. Rodriguez/Getty Images
Late last month, famous person Ashley Judd opted not to challenge Mitch McConnell for his Kentucky senate seat. It was probably the right choice, for a slew of reasons. But in case there was any doubt, a new secret tape from David Corn of Mother Jones, the reporter who first published the Mitt Romney "47 percent" recording, shows the minority leader's reelection team absolutely salivating at the prospect of running against a wealthy, God-hating, liberal, feminist carpetbagger. This is opposition research as an episode of E! True Hollywood Story, and it is raw.
"I assume most of you have played the game Whac-A-Mole?" McConnell asked to laughs at the February 2 meeting. "This is the Whac-A-Mole period of the campaign … when anybody sticks their head up, do them out."
When aides take the floor, they describe Judd's life as "a haystack of needles, just because truly, there's such a wealth of material," including her mental health:
She's clearly, this sounds extreme, but she is emotionally unbalanced. I mean it's been documented. Jesse can go in chapter and verse from her autobiography about, you know, she's suffered some suicidal tendencies. She was hospitalized for 42 days when she had a mental breakdown in the '90s.
In other words, yes, she is a famous actress, with all of the stresses that entails. (It's all in her 2011 memoir All That Is Bitter & Sweet.) They go on:
She is critical … of traditional Christianity. She sort of views it as sort of a vestige of patriarchy. She says Christianity gives a God like a man, presented and discussed exclusively with male imagery, which legitimizes and seals male power, the intention to dominate even if that intention is nowhere visible. […]

I think too she's clearly sort of anti-sort-of-traditional American family. […] She described having children as selfish, and she thinks it's unconscionable to breed … She also is critical of, of fathers giving away their daughters in marriage ceremonies. She says it's a common vestige of male dominion over a women's reproductive status when her father gives her away at a wedding.
While Mother Jones does not explain where they got the tapes, McConnell's team is making it look not like an internal leak, but shady business: "We've always said the Left would stop at nothing to attack SenMcConnell," said his campaign manager, "but Nixonian tactics to bug campaign headquarters is above and beyond."
There is much, much more on the recordings, included hearty chuckles from the McConnell team, who come across as quite confident. They had reason to be: Kentucky is a conservative's paradise, and Judd is a documented member of the Hollywood glitterati. While one might hear these dastardly, bullying opposition research sessions and get fired up for a bruising Senate race, for Judd, an untested politician with little to gain, they just make clear that she not only avoided a likely loss, but an ugly one.
Update: "Senator McConnell's campaign is working with the FBI and has notified the local U.S. Attorney in Louisville, per FBI request, about these recordings," said McConnell campaign manager Jesse Benton, according to NBC. "Obviously a recording device of some kind was placed in Sen. McConnell's campaign office without consent. By whom and how that was accomplished will presumably be the subject of a criminal investigation." We've reached out to Corn and will update with any word from Mother Jones.
Update II: Mother Jones responds:
We are still waiting for Sen. Mitch McConnell to comment on the substance of the story. Before posting this article, we contacted his Senate office and his campaign office—in particular, his campaign manager, Jesse Benton—and no one responded. As the story makes clear, we were recently provided the tape by a source who wished to remain anonymous. We were not involved in the making of the tape, but we published a story on the tape due to its obvious newsworthiness. It is our understanding that the tape was not the product of a Watergate-style bugging operation. We cannot comment beyond that.