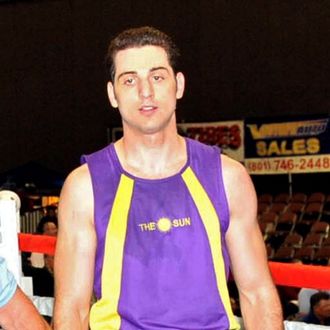 As investigators and journalists scour the world for information about the Boston bombing suspects' possible motive, they have focused much attention on a trip the older brother, Tamerlan Tsarnaev, took to Chechnya and Dagestan in January 2012. Russia, which asked the FBI to look into Tsarnaev ahead of the trip, suspected he "was a 'follower of radical Islam' and was preparing to travel to this foreign country to join unspecified underground groups," according to the Associated Press. But as his family and friends there describe their memories of his visit, he sounds less like a militant in training and more like a listless 20-something visiting family after a rough patch in the United States.
Tsarnaev's father described his son's lethargy during the trip to the AP:
"He was here, with me in Makhachkala [Dagestan]," Anzor Tsarnaev told The Associated Press in a telephone interview. "He slept until 3 p.m., and you know, I would ask him: 'Have you come here to sleep?' He used to go visiting, here and there. He would go to eat somewhere. Then he would come back and go to bed."
But Tamerlan Tsarnaev didn't just lie around, friends told the New York Times. His father, who said Tamerlan had made the visit to renew his Russian passport, was renovating a storefront, and Tamerlan helped him work, starting at 8 a.m. to do so.
Authorities are investigating whether Tamerlan could have become radicalized during his visit. But the AP reports that no evidence has so far linked him to militant groups in the Caucuses, and a group the Times described as "the most feared terrorist group in the Caucasus, the Mujahideen of the Caucasus Emirate," issued a statement on Sunday saying it had nothing to do with the bombings. "We are at war with Russia," it said, not America.
Tamerlan had pursued a career as a boxer in the United States, where his family moved from Dagestan about ten years ago, but gave that up as he became a more devout Muslim. "You know how Islam has changed me," his mother, Zubeidat Tsarnaeva, says he told her, according to The Wall Street Journal. Tamerlan's mother said that during a period when Tamerlan's girlfriend accused him of slapping him, the relationship fell apart, and a friend of his was murdered, she encouraged him to get closer to his faith.
"I told Tamerlan that we are Muslim, and we are not practicing our religion, and how can we call ourselves Muslims?" Mrs. Tsarnaeva said. "And that's how Tamerlan started reading about Islam, and he started praying, and he got more and more and more into his religion."
When the F.B.I. spoke with him at Russia's behest in 2011, Tamerlan's mother told The Journal he was defiant:
"I am in a country that gives me the right to read whatever I want and watch whatever I want,'" Mrs. Tsarnaeva recalled her son saying. "He was even trying to get the FBI [agent] to convert to Islam."
Zubeidat Tsarnaeva "went so far on Sunday to claim that the FBI had contacted her elder son after the deadly bombs exploded at the marathon," the AP reports. The FBI denies that. Despite the new details, it's still unclear when or why the two seemingly normal brothers started plotting to commit an act of terror.