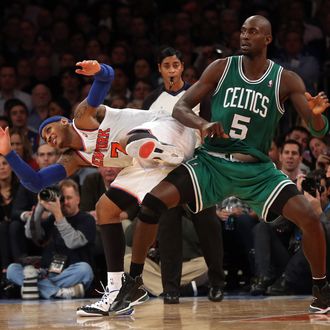 These two kids again.
Photo: Bruce Bennett/Getty Images
This year was the first time in NBA history that two teams played in New York City, and now those two teams make up 12.5 percent of all playoff teams. It's a good deal, all told. Yes, the NBA playoffs tip off tomorrow, and don't forget that they will be going on forever; the first-round series alone are scheduled to end on Sunday, May 4. That doesn't mean each series isn't fraught with peril and high stakes and pressure for both teams. To preview each series, particularly the ones in town (and the Knicks start at 3 p.m. at MSG Saturday; the Nets begin at 8 p.m. at Barclays), we're going to look at what, precisely, is at stake for each team in each series … and what could go wrong if they lose.
EASTERN CONFERENCE
No. 2 New York Knicks vs. No. 7 Boston Celtics
What's at stake for Boston: This could be the last gasp of a fading empire. Sure, people say that every year, but with Rajon Rondo hurt, Kevin Garnett aging rapidly, and Paul Pierce right behind him, this truly might be the end. They'd love nothing more than to extend their dominance of the Knicks for one more series; they certainly are the most playoff-wizened team in the conference. But make no mistake: If they lose this, they very well might blow it up in the off-season.
What's at stake for New York: Somehow, a little bit more than Boston. This is, essentially, the best Knicks team in nearly two decades, an older one that is specifically constructed to win right now. The Knicks, particularly Carmelo Anthony and J.R. Smith, were red-hot at the end of the year, and they now come into the playoffs with more momentum than any team in the conference. If they were to fail to make it out of the first round, particularly against a team that's had their number for a decade, it could be catastrophic.
Prediction: Knicks in five. The Celtics feel scary, but that's more because of their uniforms than the players wearing them. Paul Pierce should be good for one heartbreaker in the series, but the Knicks are the better team by a good margin.
No. 4 Brooklyn Nets vs. No. 5 Chicago Bulls
What's at stake for Chicago: Not much, actually. This is a higher seed than anyone could have reasonably expected for the Derrick Rose–less Bulls, and anything past the first round is a bonus. Their most important offensive player is Nate Robinson. This is a team that has barely, and bravely, held it together.
What's at stake for Brooklyn: Well, start with P.J. Carlesimo's job. He's probably not coming back anyway, but a first-round loss would make sure it happens within a matter of hours. The Nets spent a lot of money — and a lot of future capital — to supposedly "compete for a title" right out of the gate, and a first-round loss to a team that's missing its superstar … well, let's just say Mikhail Prokhorov would make quite the show of firing everybody he can the very next day.
Prediction: Bulls in seven. The Bulls seem to have the number of both NYC teams this year, and their defense is the most reliable thing in this series. Deron Williams has played great of late, but he's going to have to do that the whole series, and then some, to carry the load the way he'll have to. This series could go either way, but all told, we'll trust the Bulls' defense over anything the Nets have going on.
No. 1 Miami Heat vs. No. 8 Milwaukee Bucks
What's at stake for Miami: Anything less than a sweep will seem like a failure. Hell, anything less than a double-digit win in every game.
What's at stake for Milwaukee: Obviously nothing is expected, but if they can sneak out one win, they'll feel better about themselves going into an off-season that has considerable uncertainty. That's something?
Prediction: Heat in four. If it goes that long.
No. 3 Indiana Pacers vs. No. 6 Atlanta Hawks
What's at stake for Indiana: More than you'd think, actually. This is a once-proud franchise that has lost fan support in recent years, for a variety of reasons, and this fun, likable team has a favorable matchup with a potential old-school Eastern Conference semifinal with New York pending. Indianapolis needs to get the spark back, and it's not happening with a first-round loss.
What's at stake for Atlanta: Nothing. Nobody cares about the Hawks.
Prediction: Pacers in five. Knicks fans, start working up that buried Reggie Miller hate. (If you need any help, just listen to him calling a game.)
WESTERN CONFERENCE
No. 1 Oklahoma City Thunder vs. No. 8 Houston Rockets
What's at stake for Oklahoma City: After losing in the NBA Finals last year, the last thing the Thunder want is to fall to a No. 8 seed, particularly to a team led by the player they traded away in the off-season.
What's at stake for Houston: Not much: This is all bonus, really. The Rockets have an established superstar (James Harden), several young talented pieces (Jeremy Lin, Chandler Parsons, Omer Asik), and a ton of cap room. Houston is building something fun, but it doesn't have to bear fruit this season.
Prediction: Oklahoma City in five. This'll be a fun, uptempo series to watch, no matter what.
No. 2 San Antonio Spurs vs. No. 7 Los Angeles Lakers
What's at stake for San Antonio: Poor Tracy McGrady's self-esteem, for starters. The former superstar famously never made it out of the first round back in his prime, and the Spurs brought him just earlier this week for the playoffs. We hope he doesn't ruin the whole thing.
What's at stake for Los Angeles: Hey, they don't have Kobe: It's house money at this point. Though if the Lakers make a championship run without Kobe, that would be pretty much the funniest thing ever.
Prediction: San Antonio in six. We bet the Lakers are a little friskier than people think, but don't worry, Tracy, you're safe.
No. 3 Denver Nuggets vs. No. 6 Golden State Warriors
What's at stake for Denver: The grand experiment: Can you win a championship without a superstar, without the "guy to take the last shot" guy? The Nuggets will have that tested even more because their designated shooter, former Knick Danilo Gallinari, is out for the season. This is a fun team, though, and George Karl has had one of his best seasons behind the bench.
What's at stake for Golden State: Not much here: It's been a fun season no matter what for one of the NBA's most underrated fan bases. The best thing that happens is that everyone is talking about Stephen Curry for two weeks.
Prediction: Denver in six. But keep an eye out for a possible upset here.
No. 4 Los Angeles Clippers vs. No. 5 Memphis Grizzlies
What's at stake for Los Angeles: Oh, let's see: The job of the Clippers' coach. Chris Paul's potential wandering eye. The disappointment of a wipeout after their first division title ever. The one era they've ever been more fun than the Lakers. Donald Sterling's lack of undivided attention. A ton more, we bet. The Clippers might have more to lose than anyone.
What's at stake for Memphis: Well, the Grizzlies did trade Rudy Gay, a move that drew considerable criticism, particularly because it might cost them a reliable scorer in the playoffs.
Prediction: Grizzlies in six. The Clippers are poorly coached and uniquely designed to struggle against the Grizzlies' defense. A loss here could open up all sorts of possibilities with Paul and the rest of these guys in the next few years … or even with (gulp) Phil Jackson.
The Sports Section will be covering both Knicks and Nets games throughout the playoffs. Having two teams in the playoffs is fun, and potentially exhausting.