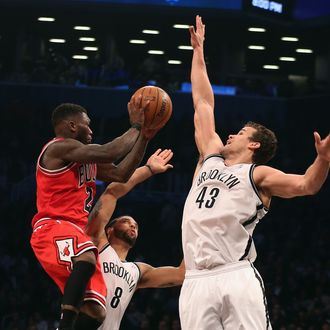 Nate didn't kill them this time.
Photo: Bruce Bennett/2013 Getty Images
As one probably should have suspected considering the events of game four in Chicago, the atmosphere at Barclays Center tonight for game five of the first-round playoff series between the Brooklyn Nets and the Chicago Bulls was not among the most intense you have ever been around. After a game like that — in which, we remind, the Nets blew a 14-point lead with three minutes to go in a game that lasted nearly four hours — it's going to take a lot longer than 50 hours to get one's wind back. The early start time, 7 p.m., didn't help either; the building was barely half full at tip-off, with Bulls fans making as much noise, if not more, than the Nets fans. Few could have blamed the Nets had they withered on the vine right there. That would discourage anyone.
The Nets certainly did their part, though, playing their second consecutive excellent game on offense in a 110-91 game five win over the Bulls to bring the series to 3-2 and send it back to Chicago for a huge game six on Thursday night. This isn't over yet.
It is worth noting that this game was yet another example of how the Nets are probably a better, more talented team than the Bulls, at least for right now. Following games two and three — in which the Bulls looked like they could clamp down on the Nets offense in perpetuity — the Nets have had two terrific offensive games in a row. They shot above 50 percent again, led by Brook Lopez, who scored 28 points and was trouble for Chicago every second he was on the floor. The Nets also received surprising contributions from Kris Humphries, who scored eight points and had five rebounds, and Andray Blatche, who was terrific in the fourth quarter, scoring ten points. Yes, Andray Blatche.
The Nets also kept Nate Robinson in check late. The diminutive guard scored 20 points and dished out eight assists, but he didn't have his magic in the fourth quarter, perhaps because he was tired from playing so many more minutes than he usually does. (Compensating for the loss of Kirk Hinrich, Nate played 44 minutes.) That allowed the Nets to pour it on in the fourth, taking a game that had been close and putting it away.
So, the Nets survive, and they'll head back to the United Center in Chicago, the site of the game four horror, on Thursday night. They should be playing that game for the right to head to the next round, rather than playing to stay alive, but that's what happens when you blow a 14-point lead with three minutes to go. If they can figure out a way to win Thursday — and if their offense keeps playing like it has been, they've got every chance to do just that — here's betting that Barclays is rocking a lot harder for that theoretical game seven on Saturday. The Nets just have to make sure that game exists.