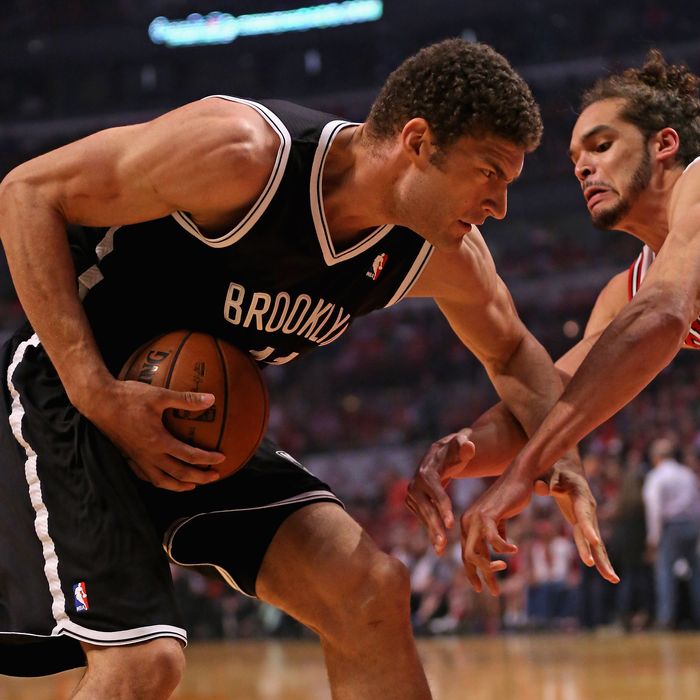 Yowza.
Photo: Jonathan Daniel/2013 Getty Images
The Brooklyn Nets and Chicago Bulls did something in game four of their first-round playoff that they hadn't done at any other point in the series: They entertained. Game four was everything the rest of the series hasn't been. It was fast-paced, with smooth pacing and actual offensive performance. It featured unlikely stars emerging, from Reggie Evans to Kirk Hinrich, and established All-Stars like Joakim Noah and Deron Williams showing why they are so highly regarded. It had a crazy last-second Brook Lopez three-pointer. It had three overtimes. It had an explosion from one of the most mercurial players in recent NBA history. Heck, there was even a fight. And, it was close: The first two games were wipeouts and the third game tightened at the end but still never generated much excitement. Not today. Today's game was between two teams who understood just how important it really was. And heavens, what a finish.
So much to get to in this one, but first, before we forget, we better give you the final score: 142-134, Bulls. We're so breathless after this one that if we didn't put that right there, we'd forget it all together.
All right. So.
As stifling as the Bulls' defense had been the last two games, the Nets finally figured out their offensive game, and for most of the way, it looked like it was going to lead them to an easy game four win. The Nets received contributions from everybody, from Evans (who scored 14 points, somehow) to Andray Blatche (who had 13) to Gerald Wallace, who finally showed a little bit of life for the first time in weeks and was a lifesaver in overtime. But most of this game had belonged to Deron Williams, who scored 32 points and dished out 10 assists. The Nets led by 14 with 3 minutes left. This was in the bag.
And then everything went sideways.
It was all about Nate Robinson, who went crazy down the stretch in every conceivable way, fashion and habit. After CJ Watson missed a wide-open dunk that might have put the game away with 3 minutes left (it would have given the Nets a 16-point lead), the Bulls scored 14 consecutive points. It sent the United Center crowd into lunacy — Robinson ended up with 34 points, 23 in the fourth quarter, and was basically unstoppable in those two minutes — and ended up with the game tied at 111 with 23.9 seconds to go. After Deron Williams missed a shot at the buzzer — it was not the most beautiful play — we had overtime. Overtime was even, with Gerald Wallace making big plays and Joakim Noah doing the same, before Carlos Boozer took a pass from Noah with 26.3 seconds left and laid it in, giving the Bulls their first lead since about 50 points earlier. And then Joe Johnson, who hadn't played well all series but tends to show up for just these moments, drove on seemingly five Bulls defenders to tie the game with 11.8 seconds to go. Then Robinson did it again, banking in a shot over Williams, who played fine defense but can't guard a phantom, with 2.0 seconds remaining. So then Johnson did it again himself, hitting a shot as time expired to send us into yet another overtime. Whew.
So then there was a second overtime, which was less exciting, as "less exciting" as double overtime can be.
And for the third overtime, the Bulls were without Noah and Robinson, who had fouled out … and then the Bulls just pulled away anyway. The Nets were so obviously exhausted they could barely take the ball up-court. Johnson had saved the Nets late the way Williams had early, but by the third overtime, they could barely lift their legs. We understand. We were pretty exhausted by the end ourselves.
There will be plenty of time to figure out where this game ranks historically, at some point, on a future date. Now, though, the Nets have a far more pressing problem: Facing elimination at Barclays Center on Monday night. They were up 14 with three minutes left. Then the world exploded. Now it's almost all over. And the only reaction you can have to it, after that game, is probably, "Can we take a nap now?" The Nets have about 48 hours to rest. They'll need it.