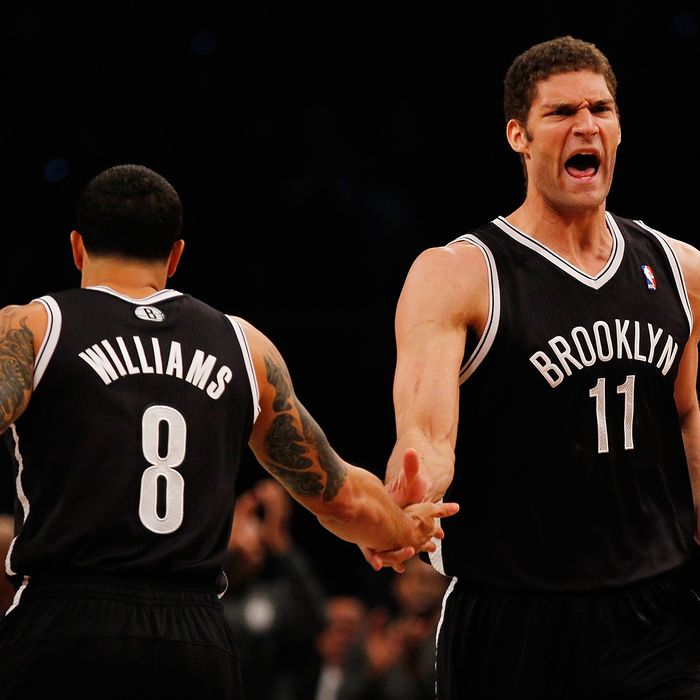 Happy fellas.
Photo: Mike Stobe/2013 Getty Images
Before Brooklyn's first postseason game in 57 years, Nets owner Mikhail Prokhorov addressed the Barclays Center crowd. Prokhorov's English can sometimes be difficult to understand even if you're standing next to him, and over the loudspeaker, his words were mostly jumbled. ""I heard there is a blackout here in Brooklyn," he told the late-arriving crowd, referring to the free black shirts given to fans at the game. "I came to keep the lights on." We're not sure we understand what that means — though he is the one guy who could turn the lights out, we suppose — but his trademark swagger felt a bit inappropriate for the occasion. It may have been the first playoff game in Brooklyn since 1956*, but the building, when Prokhorov was talking, felt more like a half-empty parlor hall. The atmosphere at Barclays has not quite caught up to the facilities. But if there are more games like tonight, it will.
The Brooklyn Nets got their postseason story off to a roaring start, destroying the Chicago Bulls 106-89 in game one of their first-round playoff series. The game was never close: The Nets were up by 11 after one period and 25 after halftime; the second half was just a bunch of goofy plays, rested starters and one ridiculous backwards dunk from Deron Williams, of all people. It was a vivisection of a defense that is not only one of the best in the NBA, but looked particularly devastating just sixteen days ago in a Bulls win at Barclays. (And the Bulls were missing defensive anchor Joakim Noah that night; he played tonight, but poorly, and gimpily.)
Williams was obviously the best player on the court, scoring 22 points with seven assists despite sitting out most of the fourth quarter. But everyone for the Nets played well, from Brook Lopez (who had 21 points) to Andray Blatche (who had 12) to Jerry Stackhouse (who sang the national anthem). It was as easy as a playoff game gets, and with those black jerseys mixing perfect with the Bulls' red, it looked pretty too. (Someone on Twitter, and we apologize for not catching who, pointed out that the contrast made the players look like White Stripes backup dancers.) It was essentially a perfect Nets night. Heck, the crowd even cheered Kris Humphries.
The goal of the Bulls was simply to steal one at Barclays, which they'll try to do Monday night. The way tonight went, though, the Bulls look like they're already ready to go home. You newly minted Nets fans, know that playoff basketball is usually much tougher than this. It will be again, soon. Well, maybe not soon. The way the Bulls looked tonight, it won't be until the next round.
* We originally said the last playoff game in Brooklyn was in 1961. It was in 1956. Math.