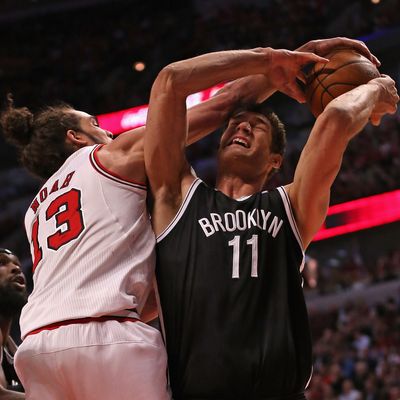 This sums up the offense pretty well.
Photo: Jonathan Daniel/2013 Getty Images
Any minute now, Mikhail Prokhorov and the Brooklyn Nets are expected to extend the contract of general manager Billy King. Whatever your thoughts on King — we tend to give him credit for putting together as much talent in a one-day span under impossibly circumstances as could reasonably be expected — a multiyear extension is an explicit endorsement of the work he has done, in the direction of the franchise in its first year in its fancy home. Suffice it to say, that direction is something that looked a lot brighter four days ago than it does right now.
The Nets lost to the Chicago Bulls 79-76 in game three of their first-round playoff series, falling behind 2-1 with another game in Chicago on Saturday afternoon. It was a legitimately grotesque game, on both sides, but the Nets were a bit more grotesque. After jumping out to a 17-6 lead in the first quarter, the Nets missed 24 of their next 25 shots. Which is not good. The Bulls defense, one of the best in the NBA, has tightened considerably, but the Nets might have missed those shots against Macy's mannequins.
The Nets made a fourth-quarter run, as much as anything in this game could have been considered a "run," and they even had a chance to tie the game in the closing seconds. As probably could have been predicted, the way this one went, CJ Watson's 3-pointer that would have sent the game into overtime … was an airball.
Honestly, if you didn't watch this game, you had a better night than anyone who did, no matter which team you were rooting for. As Eric Freeman kept joking on Twitter, it was like an gnarled, particularly unathletic 7-10 NCAA Tournament first-round matchup. (Other than this play.)
So, the Nets head toward game four suddenly in some serious trouble; it's difficult to remember all the way back to game one, when they were so dominant, almost looking capable of sweeping. Uh, nope. If they lose Saturday, they could facing elimination at Barclays Center on Monday night. This series turned so fast it feels like it both just started, and is almost over.